Posted on
Sat, Jan 15, 2011 : 11:58 a.m.
Free dental services for children offered in Ann Arbor Feb. 5 as part of 'Give Kids a Smile Day'
By Heather Lockwood
Area residents are invited to register their children, ages 5-12, for free dental services during Give Kids a Smile Day on Feb. 5, hosted by the University of Michigan School of Dentistry and the Washtenaw District Dental Society.
Free dental cleanings, limited x-rays, sealants, fillings and extractions will be provided to the first 100 children registered. Children must be accompanied by a parent or guardian.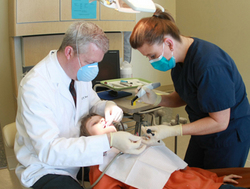 The event will take place from 9 a.m. to 2 p.m. Feb. 5 at the U-M School of Dentistry, 2nd floor, 1011 N. University Ave.
Registration for the two appointment times — 9:30 a.m. to noon or 11:30 a.m. to 2 p.m. — is to begin at 9 a.m. and will be done on a first-come, first-served basis.
Kristin Ellsworth, a third-year U-M dental student and an advertising committee leader for the event, said she hopes to see 100 children register for the free service.
"We would love to get 100 kids, but judging by last year's numbers, 75 would be a good turnout," she said. "We just want to improve access (to dental care) to children of all socioeconomic statuses."
For more information, call (734) 763-6933.