Posted on
Tue, Feb 28, 2012 : 9:31 a.m.
Village Pharmacy II hosts health fair March 10; U-M student group makes it to finals of 'White House Challenge'
By AnnArbor.com Staff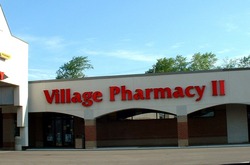 Sarah Rigg | AnnArbor.com Freelance Journalist
From a health fair at Village Pharmacy II to a University of Michigan student group making it to the final round of the "White House Challenge," here's a roundup of some of the stories posted on AnnArbor.com's Community Wall this week:
By: Adina: Health Fair at Village Pharmacy II
Village Pharmacy II will be hosting a health fair on March 10th from 11 A.M to 3 P.M. Pharmacy students from the University of Michigan will be providing diabetes screening, blood pressure monitoring, and over the counter medication counseling.
By: Sabina: Students for Educational Equality (UM Student Group) Makes it to Finals of White House Challenge
If SEE gets into the top five, we will be given the opportunity to go to the White House and meet with President Obama and host an episode of mtvU's "The Dean's List".
By: Jennifer: Free Lecture on Skin Cancer
By: Shih-Wen Wu: Chinese Food Festival and Fund Raising for Food Gatherers
By: Dawn Farm Education Series: Grief and Loss in Addiction and Recovery
By: State Parks Rock!: Rec 101: Intro to Night Skies @ Brighton State Recreation Area
By: Frances Kai-Hwa Wang: Seven Ohara Language Institute Students to Compete in 19th Annual Michigan Japanese Quiz Bowl
By: U-M Health System: University of Michigan hosts free health fair March 8 during World Kidney Day
By: Concerned Citizen: A vote for Ron Paul is a vote for Peace and Personal Liberty
Arbor.com's Community Wall is a spot for local people to post local stories, news and announcements. To post a story, sign in to AnnArbor.com, then go to www.annarbor.com/community and use the Got News? Tell Us function at the top to submit your news. If you have a photo to add, e-mail it to us at community@annarbor.com, and we'll insert it into your story.