Posted on
Sat, Sep 15, 2012 : 5:55 p.m.
Free samples draw a crowd to 2nd annual Mark's Carts cook off
By Lisa Carolin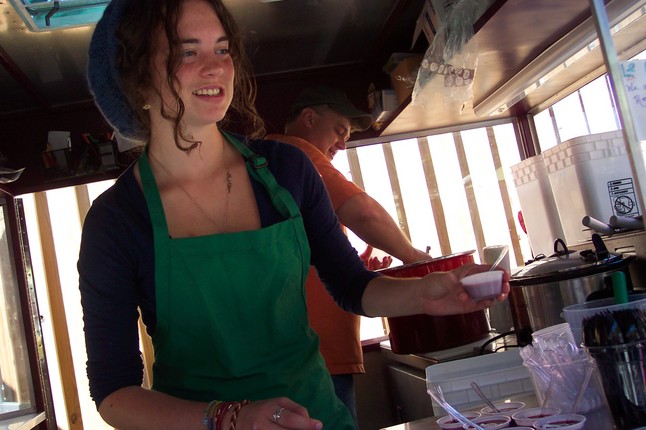 Lisa Carolin | For AnnArbor.com
The picnic tables were jammed at Mark's Carts on West Washington Street in Ann Arbor at lunchtime on Saturday thanks to the free samples distributed during the second annual Mark's Carts Cook-Off.
Seven of the eight food carts participated, and a new stockpot provided by Le Creuset served as both the required cooking implement and prize for each participating cart.
"Last year we won the cook off and it has been very good for business," said Sumi Ghogani, who runs Hut-K Chaats, which sells Indian street food.
Local eclectic street food is the specialty at Darcy's Cart , where assistant manager Erin Miner was handing out samples of ratatouille.
"Rustic vegetables are in season, and we thought this is a perfect day to let people sample ingredients from farms in the area," said Miner.
Ann Arbor resident Brooke Ullery is a regular customer at Mark's Carts.
"I like that I can get a full meal for under $10 and the novelty and variety offered here," said Ullery,
"I come here quite a bit," said Ann Arbor resident Becky O'Brien, enjoying a sample from the Cheese Dream cart. "This sweet potato and red pepper soup has a perfect texture and seasoning."
"I'm probably going to vote for the lentil and pumpkin stew with roasted garlic from Debajo Del Sol," said Diane Coxford from Ann Arbor.
Her daughter, Cindy Tyner, said that she was partial to the flavor combination offered in Beet Box's Roasted beet and apple stew with mint yogurt.
"To have people come down and experience the cart culture is great," said Matt Dulin, general manager of the Beet Box. "I could do one of these cook offs every week."
Downtown Home and Garden sells LeCreuset cookware, which provided the stock pots as well as the idea to have a cook off.
Mark Hodesh is the owner of Downtown Home and Garden and founder of Mark's Carts and was also handing out samples today- of the chili recipe he created when he owned the Fleetwood Diner in the 1970s.
"It's straight up, delicious, functional chili," said Hodesh. "Nothing fancy, just hamburger, kidney beans, tomatoes and onions, and I make the chili powder."
Hodesh says that downtown "buzzes" on a football Saturday.
"There are more people coming to our block now," he said. "The businesses feed each other. It's really gratifying because it makes our store busier."