Posted on
Thu, Sep 29, 2011 : 5:58 a.m.
New freeway cameras will monitor traffic flow in Ann Arbor area; message boards will warn of congestion
By Cindy Heflin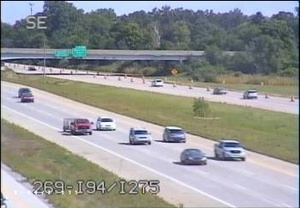 Starting sometime next year, drivers on
Ann Arbor
-area freeways will be on camera as they travel about.
The Michigan Department of Transportation is installing the cameras, as well as message boards, to help motorists avoid congested areas and improve travel efficiency, MDOT spokeswoman Kari Arend said.
The public will be able to view video from cameras on MDOT's website, Michigan.gov/drive. "They can go to those cameras and see how traffic is flowing," Arend said.
The cameras will not be used for tracking motorists' speed to issue tickets or for law enforcement purposes in general, she said, unless there's some extenuating circumstance. "Generally, these are not recording," she said. "They're just live."
The system is similar to one already in use on freeways in the Detroit area. MDOT has also installed the cameras in several locations in Livingston County and is testing that system now. It should go live later this year, Arend said.
Washtenaw County will get 11 video cameras, 8 message boards, 3 travel time signs and 13 travel detectors or devices that help determine traffic flow. The cameras will be located at major intersections, including I-94 and US-23, I-94 and State Street, I-94 and Ann Arbor-Saline Road and US-23 and M-14.
Workers already have begun installing the system at several of the intersections. A testing period will follow the installation, and MDOT expects the system to go live in fall 2012, Arend said.
MDOT plans to place the message boards in strategic locations to warn motorists of crashes or construction congestion ahead so they can choose an alternate route. "For example, the one on westbound I-96 (in Livingston County) we put that board before M-59 so they can divert."
MDOT plans to place travel time signs on eastbound I-94 near Zeeb Road, specifying travel time to downtown Detroit, and on southbound US-23 north of Geddes Road and northbound US-23 north of Geddes Road. Those signs will specify travel times to I-275 and M-52 and I-96.
The federal government is picking up the $3.2 million cost for the project, Arend said.
The cameras can assist police and emergency crews in mounting a fast response to crashes.
Sarah Gill, assistant operations delivery engineer at the Michigan Intelligent Transportation Systems Center, which monitors the cameras in Detroit, said they can be turned in virtually any direction and can zoom to a mile and a half away. They allow dispatchers to give rescuers accurate information about where accidents are.
"They can tell them which entrance ramp they can get on," she said. "It helps minimize the drive time."
But motorists need not fear Big Brother is watching their every move, Gill said. The cameras can't zoom in on license plates and can't see how many occupants are in a car, she said.
"We have 207 cameras in southeast Michigan. We can't even view them all," she said.