Posted on
Sat, May 11, 2013 : 10:02 p.m.
Freeze watch issued for Ann Arbor area
By Cindy Heflin
If you were thinking of spending your Sunday afternoon setting out some pretty petunias or begonias, think again.
The National Weather Service has issued a freeze watch for all of Lower Michigan from late Sunday night through Monday morning. A cold front moving into the state even brought snow to the Traverse City area Saturday.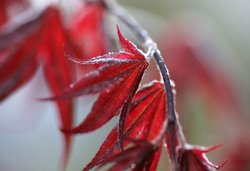 MLive photo
There's none of the white stuff in the forecast for the
Ann Arbor
area, but it's going to feel mighty cold after several days of temperatures in the 70s over the past week.
After a low around 36 Saturday night and a high rising only to around 48 Sunday, temperatures will dip below freezing Sunday night. Areas of frost are possible after 2 a.m. Monday morning. The weather service predicts an overnight low of 30.
The cold and frost is likely to ruin any tender annuals already set out, so plan to cover them if you got the gardening bug early this year. Flowering fruit trees could also be damaged by the cold.
It'll be breezy on Sunday as well, with winds gusting to 32 mph.
Monday will be warmer with a high near 54, but another cold night is in store Monday night, with the low dipping to 39.
Tuesday will bring a chance of showers with a high near 61.
We'll get a serious warm-up Wednesday with sunny skies and a high of about 80.
Showers and thunderstorms are possible Thursday and Friday with highs in the 70s.
For updated weather forecasts and conditions any time, check AnnArbor.com's weather page.