Posted on
Mon, Feb 27, 2012 : 12:42 p.m.
Freezing rain could make a mess of Ann Arbor-area commute Wednesday
By Cindy Heflin
Ann Arbor-area motorists may want to brace for a challenging commute Wednesday morning. A winter storm moving east across the Plains could coat roads and sidewalks with a thin layer of ice, the National Weather Service warns.
Although overnight ice accumulation is likely to amount to less than a tenth of an inch, that's enough to cause havoc on the roads, said Matt Mosteiko, a meteorologist with the National Weather Service in White Lake Township. "Even a trace of freezing drizzle is enough to cause problems," he said.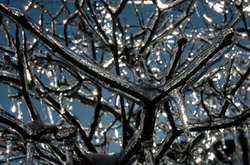 And it's possible things could get really ugly. The government's
Hydrometeorological Prediction Center
forecasts a 40 percent probability of a quarter inch of ice, he noted.
"A tenth of an inch is significant," he said. "A quarter of an inch would be quite hazardous."
That much ice could cause significant power outages as well.
Tuesday will start off innocently enough, with partly sunny skies and a high near 36. But Tuesday night, things start to fall apart with a chance of snow before 1 a.m., then freezing rain and sleet possibly mixed with snow. The chance of precipitation is 90 percent.
The freezing rain could continue into the morning hours Wednesday, Mosteiko said, but will begin mixing with rain and eventually change over to all rain by afternoon. Exactly what time that will happen is unclear, he said.
The cause of this messy weather is a large low-pressure system sitting over the Denver area, Mosteiko said. Warmer, moist air moving up from the Gulf of Mexico will meet that system and creating the wintry mix that will affect the area Tuesday night and Wednesday, he said.
For updated forecasts and weather conditions any time, visit AnnArbor.com's weather page.