Posted on
Thu, Nov 3, 2011 : 5:58 a.m.
U-M study on weight says the 'freshman 15' is an exaggeration
By Kellie Woodhouse
A new study confirms what many college students have known all along: The 'freshman 15' is an exaggeration.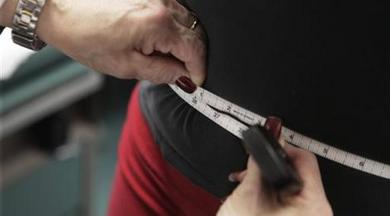 AP file photo
The study, conducted by
University of Michigan at Dearborn
and
Ohio State University
, says that students don't actually gain a full 15 pounds their first year of college, as rumored.
Instead, students gain about three pounds their first year, according to the study. Researchers involved in the project interviewed roughly 7,400 people nationwide over a one-year period.
"I don't think I gained much more than seven pounds," recalled U-M junior Andrea Alajebovic. By sophomore year, Alajebovic had learned how to balance a college diet and lost the extra weight.
"I did gain weight my freshman year, but it's because of the dorms," she said. Eating "buffet-style, high sodium meals" at campus dorms is the cause of most freshman weight gain, Alajebovic surmised.
U-M senior Dustin Eisenstat agreed.
"There's definitely a weight gain because it's hard to adjust your diet to college," he said. "But I don't know if there's an exact number."
The recently released study, however, disagrees. It says that on average women gain 2.4 pounds their freshman year, while men gain 3.4 pounds.
"That's a lot less than 15 pounds," said U-M Dearborn researcher Pat Smith, who conducted the study. In reality, fewer than 10 percent of students gain 15 pounds or more their freshman year.
"All these stories about the freshmen 15 are clearly exaggerations," Smith said.
However, young adults in college do gain about half a pound more than young adults who aren't in college, Smith said.
The study also found that 25 percent of freshman lost weight their freshman year.
Such was the experience of Sara Satin.
"I try to avoid eating food in the middle of the night or hitting up the dessert bars," the U-M freshman said. "And there's a little bit of walking during the day."
The trek from class to class on the large Ann Arbor campus and access to the school's three gyms are helpful in keeping the weight off, Satin said.
"Everyone worries about it... but people don't gain that much weight usually," she said. "The actual number 15 is exaggerated."
Amy Novvab, a U-M junior, said she didn't gain any weight her freshman year, either. She said that often the stress of a college workload leads many freshmen to lose weight.
Novvab said that as awareness of obesity grows, so does the number of options in dining halls.
"At Michigan, every night there's lots of options, so you can find healthy foods," she said.
But Novvab said that self-restraint can be difficult because many college gatherings are "surrounded by food."
The study found that once individuals enter adulthood, they steadily gain two or three pounds each year.
"Don't worry about the freshman year, worry every year about not gaining too much weight," Smith warned. "It could sneak up on you."
Last year, a U-M study determined that freshman weight gain was directly correlated to the weight of a student's roommate. Additionally, U-M's gradual switch to trayless dining halls may help curb weight gain.
Kellie Woodhouse covers higher education for AnnArbor.com. Reach her at kelliewoodhouse@annarbor.com or 734-623-4602 and follow her on twitter.