Posted on
Sat, Mar 13, 2010 : 6 a.m.
Friends remember Eastern Michigan University dean who triumphed over tragedy, loved helping students
By Juliana Keeping
In his final days, Vernon Polite, the dean of the Eastern Michigan University College of Education, continued to push others to achieve.
"Two or three days before he passed, he was still lecturing me about my dissertation," said Cheryl Price, a College of Education doctoral fellow.
Polite was her dissertation chair, and despite his failing health, he asked about her writing, told her to look up an article they wrote together - then pull it apart and put it back together.
"You don't usually meet people like that, who care about you and your education and show it in that way," Price said.
That kind of dedication was typical of Polite, say friends, colleagues and family members. Polite died March 8 at the age of 61, following a battle with pancreatic cancer.
Photo courtesy of Eastern Michigan University
His loss will be felt at EMU and beyond, say those who knew him.
But Polite's life could have taken him down darker paths.
When he was 4, Polite's father killed his mother in front of him before taking his own life. His aunt gained custody and raised Polite in a loving home alongside his cousin, Gail Washington, in the Detroit area.
Witnessing his parents' deaths stopped him from speaking for a number of years, and no school would take him because of it, family members said. But his aunt, a central figure in his life, convinced a Catholic school in Detroit to enroll him in kindergarten.
"Statistically, he wasn't supposed to make it," Washington said. "Coming from a broken home, witnessing the death of his parents. But he pulled through. He was a determined person, and he was fighter. He lived a month or two longer than they said he would. Because if you said he couldn't do it, he was going to do it."
Polite eventually got his voice back. He grew up to become a devout Catholic, though a friend described him as deeply spiritual rather than dogmatic. His aunt imparted religious tolerance by having the children - and she counted Polite as one of her own - visit the various churches her extended family belonged to.
"In his quiet way, he would accomplish his goal and move on to something else, and not to get any praise or accolades," Washington said.
Polite almost never spoke of the incident to family, Washington said. But he shared his story, and its message of triumph over tragedy, often and openly with education students he sensed needed the extra encouragement, colleagues said.
"He never told that story to garner any kind of any kind of sympathy," Price said. "He told it to talk about strength and courage and determination in spite of your challenges. It would leave you breathless, really, just listening to his story. And students were able to put things in a different perspective."
Colleagues described the dean as warm and paternal, modest yet sharply dressed, someone who was always ready with a smile and a greeting.
He remembered names. All of them. His office door was open at all times to students, faculty and staff.
A black wreath hung on the door to the dean's office at the College of Education, and somber colleagues visited to pay their respects in the days following his death. His office desk was still stacked with paperwork from his ongoing projects.
His colleagues at the college say they were particularly struck by a phenomenon that occurred when they traveled with him to national education conferences. Groups of people would flock to him and follow him around, practically elbowing each other out of the way to get a piece of his time.
Polite's curriculum vitae reveals a number of professional accomplishments. He earned his doctorate from Michigan State University in K-12 administration, where his dissertation explored the plight of black males in urban high schools. He spent time as a high school principal before becoming the founding dean of Bowie State University's College of Education in Maryland, prior to joining EMU in 2005. The former Fulbright scholar has penned book chapters and presented numerous papers at national conferences on issues impacting urban students.
"Hey Vernon, you're our dean," Polite's friend and colleague, Deborah Harmon, would tease him about his magnetism and the conference groupies.
Everyone seemed to know Polite, and he seemed to know everyone, said Harmon, a professor who trains teachers and serves as the director of EMU's Office of Urban Education and Educational Equity. He used his connections to help others.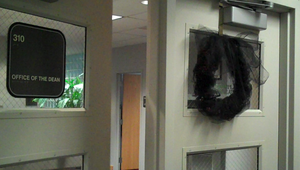 Juliana Keeping | AnnArbor.com
Polite fought throughout his career for social justice in education. College drop-out rates for underrepresented minorities, in particular black males, are disproportionately high. There are few underrepresented minority teachers - which includes, blacks, Hispanics and Native Americans - in K-12 schools. Those and other issues vexed the leader of one of the largest teacher training colleges in the country.
"He had a passion as it related to issues facing minority students and in particular black males in the academy," said Eboni Zamani-Gallaher, an EMU professor of educational leadership who counted Polite as her mentor.
When Polite joined EMU, he got behind a program aimed at addressing high minority drop-out rates in the College of Education, traveling to Washington and securing a $285,000 Congressional earmark to expand it.
Now, Harmon's office can target urban middle and high schools to attract students to education careers. Developing Resilience and Educational Achievement in Minority Students (DREAMS) began this school year, following the success over 10 years of its predecessor, which significantly bumped participants' college completion rates. 
The program aims to keep tabs on participating students throughout college and into their young professional life as teachers.
Polite also spearheaded two summits aimed at addressing issues that impact black males and females in education, covering issues like high rates of school violence and health crises like HIV/AIDS within those communities.
Michael Bretting, now the interim dean who served as associate dean under Polite, counted his boss as his best friend. He said the "Courageous Conversations" summits Polite started will continue. The next conference will focus on students with disabilities, Bretting said.
"Vernon had a very clear vision of the social justice issues, and dedicated his life to those issues," Bretting said.
In his last months, Polite had been trying to organize an emergency fund for education students who couldn't scrape together tuition money. He had been known to give his own money to a student in trouble, rather than see the person drop out of school.
Price teared up when she spoke about finishing her dissertation without Polite's guidance. He arranged for a new dissertation chair, but she said she'll miss him.
"He pushed me harder than I've ever been pushed in my life," said Price, now an assistant program director for DREAMS. "I will finish. I have to."
Juliana Keeping covers higher education for AnnArbor.com. Reach her at julianakeeping@annarbor.com or 734-623-2528. Follow Juliana Keeping on Twitter