Posted on
Fri, Apr 6, 2012 : 5:59 a.m.
From gas station to Grass Station: Marijuana dispensary in Ann Arbor fighting uphill battle
By Ryan J. Stanton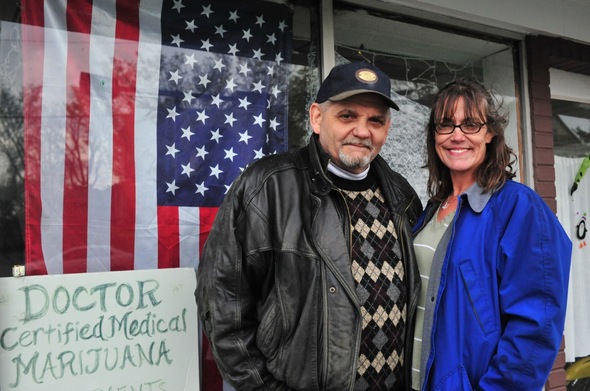 Ryan J. Stanton | AnnArbor.com
After closing his gas station on Liberty Street just west of downtown
Ann Arbor
about six years ago,
Garth Bolgos
wondered what he might do with the property.
"It was a gas station for 20 years," Bolgos said. "My partner and I ran it since 1990 and finally we had to close her down due to the economic situation."
He spent two years trying to sell the place with no luck. Eventually an old friend from high school who suffers from multiple sclerosis proposed an idea.
"He suggested that I open up a dispensary because he had no place to get his medication," Bolgos said. "And that's what spurred me on to open it up as a medical dispensary."
And so the small building at 325 W. Liberty St. went from gas station to Grass Station — the name Bolgos and his wife, Leslie, picked for their new medical marijuana operation.
But opening for business has been an uphill battle for the mom-and-pop shop. The city has pushed back, arguing the dispensary wasn't open before an August 2010 moratorium on new dispensaries was put in place by the Ann Arbor City Council.
The city's citizen-led medical marijuana licensing board is recommending the council grant the Grass Station a dispensary license anyway. But until that happens — it could be several more months — Bolgos and his wife are afraid to open for business.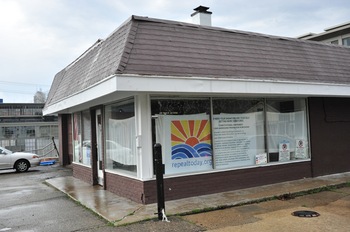 Ryan J. Stanton | AnnArbor.com
"Right now we have just our own patients," Bolgos said. "We don't have any from the public because we had a cease and desist letter from the city attorney. I was in fear that they would probably just come in and raid me, and so I've been shut down ever since."
But he isn't completely shut down.
As Bolgos and his wife fight to open a dispensary, they're making use of the Grass Station as a hub for the statewide push to legalize marijuana for people 21 and older.
They held a signature drive at the shop last week and said the Grass Station will serve as a drive-thru signature station for the campaign from now through early July. The campaign also will be out collecting signatures at Saturday's Hash Bash in Ann Arbor.
Bolgos and his wife, as well as his mother-in-law, are state-registered medical marijuana caregivers, and they each have patients they serve. But they're not able to open the retail-style dispensary they want because of the pushback they've received from the city.
"On the Grass Station, they couldn't open up because they're post-moratorium under our own ordinance," said City Attorney Stephen Postema. "And it's not clear they've provided anything to show that they would be compliant with our licensing ordinance. Either way, they've got to go through the procedure, so that's the position they're in right now."
Dispensary or no dispensary, Bolgos wants to revamp the aging building, which has fallen into a state of disrepair. But he said the city won't let him.
"The city has its heels dug in, at least the city attorney," Bolgos said. "They've been doing their due diligence for the last year and a half, two years, and I've been very patient. I put in for my building permit and they won't release the building permit until they decide what they're going to do with the dispensary, so here I sit in limbo and that's about it."
Bolgos' wife, Leslie, is just as frustrated.
"I am the part owner of the building, the property itself, and a partner in the dispensary," she said. "My husband has had this piece of property for about 25 years now. We're trying to do something beneficial to the community and do something worthwhile with our property.
"We're fighting to keep this property," she added. "We are literally dying on the vine here waiting for the City Council to let us go ahead with what we want to do with this."
In addition to the Grass Station, nine other dispensaries are awaiting licenses from the city, but most of them are open for business right now because they were up and running before the moratorium hit. The city determined the Grass Station was not open in time.
An ordinance approved by the City Council last year in the spirit of allowing access to medical marijuana in Ann Arbor states dispensaries can continue to operate pending final action on their applications unless a building official determines they must be closed for safety reasons.
There are differing interpretations of that, though, and the city attorney believes it applies only to dispensaries that already have been determined to be compliant with state law.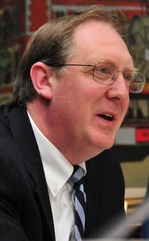 Postema argued at this week's City Council meeting that no dispensaries in the city are legally operating
until they've been licensed
, and none are licensed yet.
Postema believes the dispensaries can't be licensed until his office determines they comply with state law, and he believes any dispensary with a sale model violates state law.
"The courts have said, for instance, you can't sell," Postema said. "And so if they're selling, you can't do that. It's just as simple as that."
Members of the city's medical marijuana licensing board and at least one council member disagree with the city attorney and are urging him to back off.
Council Member Sabra Briere, D-1st Ward, said she's had long discussions with Postema about dispensaries. The way she sees it, the city attorney is arguing that dispensaries, simply by existing, don't comply with state law and thus can't be licensed.
She said the Grass Station is in a particularly peculiar position. If its owners took the risk of opening for business, Briere said, "it would be a real risk."
Alternative to medicine
More than 322,600 signatures from registered voters in Michigan are needed to put the legalization question on the November ballot.
With fewer than 100 days to go before the deadline, the Repeal Today campaign reports it has collected about 12,000 signatures since January.
"We have 2,500-plus volunteers and the number is growing quickly, so we're ready to turn them on," said Ryan Munevar, one of the campaign's behind-the-scenes leaders.
Munevar set up a campaign office on Main Street in downtown Ann Arbor. He calls it the brains of the entire statewide operation and said efforts are under way throughout the state.
"The primary goal from the start of this was to get as many volunteers as possible to build an infrastructure for the future," Munevar said, noting organizers weren't sure early on if they'd actually collect enough signatures to put the question on the ballot this year.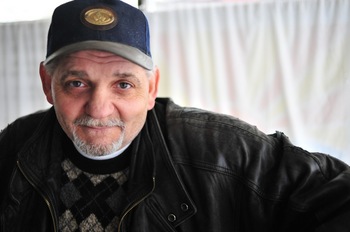 Ryan J. Stanton | AnnArbor.com
"But we started getting enough that we were like, 'Let's give this a real shot,' so we're going to give this a go," he said. "But win or lose, the goal was infrastructure."
If the effort falls short this year, Munevar said, there at least will be a strong volunteer base to give it another push in a future election.
Campaign organizers are hoping to collect thousands of signatures at this Saturday's Hash Bash, which starts at noon on the University of Michigan Diag and is followed by the Monroe Street Fair.
For the first time in 41 years of Hash Bash, organizers of the festival say they're proud to have a real legalization effort in full swing. They say the ballot question is a direct response to the interference by state officials to implement Michigan's Medical Marihuana Act, as well as increasing legal actions against state-registered patients and caregivers.
"Hash Bash is just an event that happens here and that's pretty much independent of us, but we have some people over there who will speak on our behalf," Munevar said. "And all the other events around all 83 counties, they're happening."
Jackson County resident Steve Sharpe paid the Grass Station a visit during last week's signature drive and said he's going to fight hard to put the question on the ballot.
Sharpe sings the praises of medical marijuana, saying he cured his colon cancer two years ago thanks to cannabis oil. He said he makes his own cannabis chocolates.
"The doctors watched it," he said. "There was no chemo, no drugs, no nothing except cannabis oil. It was 28 days of a gram of oil a day. I'm a believer now and my doctor's office is a believer, and the more people I talk to, they're becoming believers."
That's the kind of story Garth and Leslie Bolgos want to hear more of once they get the Grass Station going. But for now, they're limited in what they can do.
"All these other dispensaries are up and running and we're just waiting for them to give us the approval," Leslie Bolgos said. "We're Ann Arborites and we just need support."
Ryan J. Stanton covers government and politics for AnnArbor.com. Reach him at ryanstanton@annarbor.com or 734-623-2529. You also can follow him on Twitter or subscribe to AnnArbor.com's email newsletters.