Posted on
Wed, Dec 21, 2011 : 9:38 a.m.
From legal suits to Santa suit: Ann Arbor attorney plays Santa during Christmas season
By Janet Miller
For each of the past eight Christmas seasons, Roland Davenport has traded his lawyer's suit and briefcase for a red suit with fur trim and a sleigh of reindeer.
From early November until Dec. 25, Davenport, an Ann Arbor attorney for the rest of the year, becomes Santa Claus, right down to his bowl full of jelly. He grows his light brow hair and beard a few extra inches and travels to the Lansing area, where a stylist spends hours turning it the color of softly fallen snow.
"I've always loved Christmas," Davenport said. "I'm a religious man and there's the reason for the season, but I'd always wondered what it would be like to become a Santa Claus. Christmas has two major icons: Jesus and Santa. There are not that many places looking for you to play Jesus."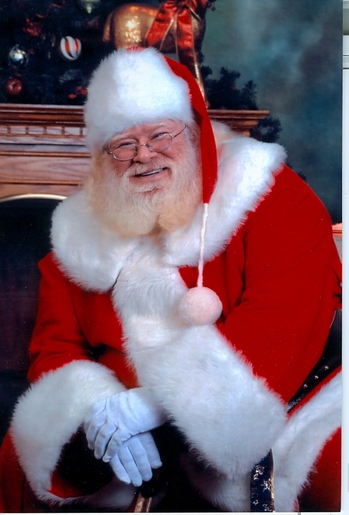 Photo courtesy of Roland Davenport
Over the years, Davenport has played Santa at private and corporate parties around metro Detroit, even entering one family gathering in a one-horse open sleigh. While his day job keeps him from playing a mall Santa, he sometimes substitutes for friends. "I don't have the time to sit in the big chair eight hours a day," he said. But each season he makes 20 to 30 appearances, winning many of the placements through Santa agents.
Davenport toyed with the idea of playing Santa for years before he heard about the Charles W. Howard Santa Claus School in Midland, which lays claim to being the oldest school of its kind in the world. "It's the Harvard of Santa Claus schools," Davenport said, with students coming from around the country and even the globe each year.
Davenport approached Santa School like he approached law school, gathering information and filling out forms a year before the October start of the three-day school. The school introduced Santa wannabes to storytellers and actors, voice coaches and even an accountant. They also took a tour of Toys 'R Us to learn about what is hot.
There were people from Sweden, Norway and Canada, Davenport said. "You smile for three days straight. There's a lot of singing. You haven't lived until you've sung 'Santa Claus is Coming to Town' with 80 singing Santas."
He's attended every year since 2004, and now teaches a class on the legal responsibilities of being Santa, from drafting simple contracts for appearances to avoiding any appearance of impropriety (never go into a restroom where there is a child unless another adult is present).
The bad economy can make being Santa difficult, especially with children increasingly asking for big ticket items such as iPods, smart phones and Nintendo Wii, Davenport said. "It can make it a little tough on Santa. I'll tell them Santa can't always fit everything on his sleigh and ask them for their second choice. Professional Santas never promise anything."
While Davenport said he's rarely met a bad child, he has met some bad parents, the ones who force their children, kicking and screaming, to sit on Santa's lap. A visit with Santa should always be fun, for parent and children, Davenport said. "Santa should not be the bad guy," he said.
Like other professions, there is a Santa hierarchy, based on beards, hair and suit quality. "There aren't that many really good Santas," Davenport said.
"Real beards" like Davenport have the most prestige and can charge the highest fees, he said. Santas that use "designer wig sets" are lower on the ladder. And the suit matters. The better quality the suit, the thicker the fur trim, Davenport said. His high-end suit cost $750 and comes with synthetic fur because real rabbit fur yellows over time.
Being Santa has changed his life, Davenport said. "I never thought I'd have such a shift that would change my focus. It's changed how I define myself."
And while playing Santa brings joy to children and adults, it sometimes can be sad, Davenport said. "Sometimes I'm asked to bring a dad or a brother home from Iraq or Afghanistan or bring a mom home from the hospital or to make her better," Davenport said. "Sometimes, that's all they'll ask for. I tell them that Santa doesn't have that kind of magic power, but I tell them that Mrs. Claus and I will offer a prayer. I know not everyone is religious, that not everyone believes in God. But I'm limited by what I can offer. I want to keep hope alive."
(Think you've got what it takes to be a Santa? Then you might be interested in this video featuring the Charles W. Howard Santa Claus School, located right here in Michigan.)