Posted on
Mon, Jun 7, 2010 : 7:55 a.m.
Future University of Michigan buildings to meet tougher energy efficiency guidelines
By Tina Reed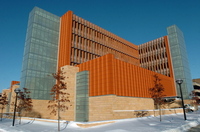 Lon Horwedel | File photo
All future University of Michigan major construction projects will have to be built to a widely recognized standard meant to increase energy efficiency and reduce the environmental impact of buildings, the university announced Monday.
U-M is officially adopting building standards that will meet LEED Silver Certification guidelines.
LEED, which stands for Leadership in Energy and Environmental Design, was created by the U.S. Green Building Council and is widely regarded as the standard for environmentally friendly and energy efficient buildings.
Several levels of certification can be achieved by using certain building techniques, such as efficient design, use of sustainable materials, using water-saving technology and building close to public transportation.
"Adopting this standard demonstrates our deep commitment to sustainable campus operations, complementing our educational and research programs in this area," said U-M President Mary Sue Coleman in a statement. "We must practice what we preach."
The Dana Building, which houses the School of Natural Resources and Environment, has LEED's Gold Certification. The Stephen M. Ross School of Business received LEED's Silver Certification. The Mott Children's and Von Voigtlander Women's Hospitals and a new Law School academic building are expected to be LEED certified after they are completed, according to the release.
In fiscal year 2004, U-M began systematically monitoring and reporting environmental progress.
In the past five years, U-M has decreased its energy use by 19 percent and its per-capita water use by 7.1 percent. U-M says it has the largest alternative energy fleet of any university with 596 vehicles that run on biofuels. Campus bus ridership is up 56 percent to 6 million riders since 2005.
"This new commitment builds on a long history of accomplishment in sustainability on the campus," said Terry Alexander, executive director of campus sustainability, who oversees the implementation and expansion of efforts related to the sustainability of campus operations. "Moving forward, we are setting even more aggressive goals."
Tina Reed covers health and the environment for AnnArbor.com. You can reach her at tinareed@annarbor.com, call her at 734-623-2535 or find her on Twitter @TreedinAA.