Posted on
Thu, Feb 28, 2013 : 6:50 p.m.
Gallup index finds Ann Arbor healthiest city in Michigan, 8th in the country
By Amy Biolchini
Though the state of Michigan may not receive high marks when it comes to overall health and well-being, Ann Arbor does, according to a new Gallup-Healthways Well-Being Report.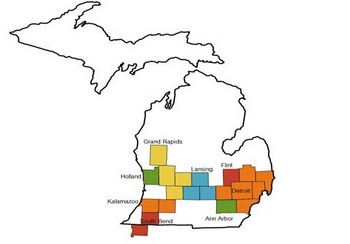 The city is the healthiest in Michigan, while the Holland and Grand Haven areas are the second-healthiest.
Overall, the Ann Arbor metropolitan area has the No. 8 spot at the top of 189 metro areas surveyed across the country -- but when it comes to life evaluation, it's No. 1 in the U.S.
Physical health and basic access to care were areas in which Ann Arbor improved from 2011, but in the past year it dropped from the No. 13 spot to the 77th for emotional health.
Work environment in Ann Arbor also decreased from 64th to 100th in the past year, according to the report.
Michigan is the 36th healthiest state in the country in 2012, according to the report. The ranking comes a week after a survey proclaimed Michigan as the 7th saddest state in the country, based on Twitter updates from residents.
Hawaii was ranked as the healthiest state, while West Virgina landed at the bottom of the list.
Amy Biolchini covers Washtenaw County, health and environmental issues for AnnArbor.com. Reach her at (734) 623-2552, amybiolchini@annarbor.com or on Twitter.