Posted on
Fri, Jun 17, 2011 : 10:54 a.m.
Gamers for Giving event at EMU invites game enthusiasts to raise money for charity
By Lisa Carolin
For Zach Wigal, an incident in high school became a memorable moment that changed his life. When he was attending Saline High School four years ago, he tried to put together a Halo 2 tournament for students.
"It was canceled by our superintendent due to concerns over video game violence and the game's appropriateness for a high school environment," explained Wigal, who is now 21 and the executive director of the Gamers Outreach Foundation. "We were disappointed but still wanted to host a video game tournament."
Wigal and his friends then created an event called Gamers for Giving that raised funds for a local branch of the Autism Society of America. It was his first involvement with charity work and he was hooked.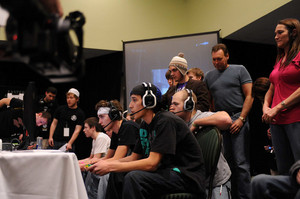 Photo courtesy of the Gamers Outreach Foundation
His Gamers Outreach Foundation now oversees three initiatives: funding the construction of portable gaming carts (GO Karts), sending video game care packages to U.S. troops serving overseas (Fun For Our Troops), and hosting online game nights and tournaments that benefit non-profit causes.
Wigal's foundation has raised more than $25,000 for charity.
"The decision to cancel that tournament in high school resonates with a lot of people familiar with the video game industry because of the negative stereotypes associated with gaming in general," said Wigal. "For me personally, I've been playing violent video games as long as I can remember, and I'm running a charity. I think there's a level of age appropriateness for games, but as far as Halo goes, I don't think it's corrupting anyone's minds."
In addition to running the foundation, Wigal is studying marketing at Eastern Michigan University and is the manager of the Dippin' Dots kiosk at Briarwood Mall. He is also responsible for an annual video game tournament called Gamers for Giving, which is hosted by his Gamers Outreach Foundation and takes place on Saturday at the Eastern Michigan University Student Center.
The doors open for check-in at 10 a.m. and events will begin at 1 p.m. According to the event web site, activities include a 2 vs. 2 Halo Reach tournament, a 4 vs. 4 Call of Duty Black Ops tournament (Xbox 360), a 1 vs. 1 Starcraft 2 tournament and a 100-person BYOC console LAN party.
Last year's tournament raised more than $11,000 and attracted more than 300 participants.
Dave Walsh, a professional gamer, is a friend of Wigal's and a participant in the tournaments. "I have played in every one of the Gamers for Giving tournaments just for fun and have donated all the money that I've won to charity," said Walsh. "I think it's revolutionary what Zach has done. There are a lot of gamers who want to do good things, and Zach has given them the path to do it."
At this year's tournament, Wigal says, activities have been doubled with the hope of raising $24,000.
This year's Gamers for Giving video tournament is free to watch but there is an entrance fee, and interested participants are asked to register at GamersforGiving.org. For more information on Wigal's foundation, go to www.GamersOutreach.org.