Posted on
Thu, Feb 10, 2011 : 5:59 a.m.
As gas prices climb in Ann Arbor area, commuters feel the pinch
By Heather Lockwood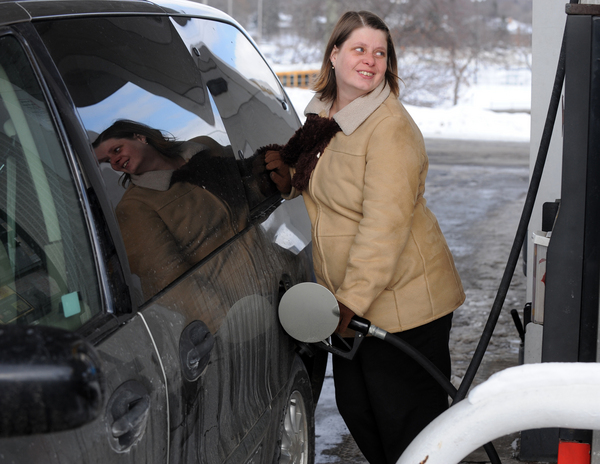 Lon Horwedel | AnnArbor.com
Brandy Ekins is all too familiar with rising gasoline prices.
She commutes about five days a week from her home in Jackson, to her housekeeping job at Weber's Inn on Jackson Avenue on Ann Arbor's west side.
Ekins stopped at Shell, 2500 Jackson Ave., after leaving work Tuesday afternoon to get gas. At $3.25 a gallon, gas was too expensive to fill up the tank of her Ford Windstar, she said.
"We're really on a budget, so I try to put less in at a time," said Ekins, who has three children and whose husband has been laid off from his irrigation job. "I just put in $10 and that used to give me half a tank. Now it only gives me a quarter of a tank."
Gas prices were up about 5.5 cents on average in Michigan this week compared to last week. Compared to this time last year, they're up nearly 60 cents a gallon, and Nancy Cain, a spokeswoman for AAA Michigan, said drivers shouldn't expect to get relief at the pump any time soon.
She cited two central reasons for the rising price of gas — political unrest in Egypt and the weakening of the U.S. dollar.
"Unfortunately, we don't see either of these things ending really quickly," she said.
Though the U.S. does not get much oil from Egypt, much of the world's oil must travel through its Suez Canal, she explained.
And the price motorists pay at the pump correlates with the cost of crude oil, which is near $88 a barrel, Cain said Monday.
The fact that gas prices have been on the rise in recent weeks is unusual for this time of year, Cain said, because they tend to dip in the winter months, as people are driving less and demand decreases. Nationally, January is the month in which people drive the least, she said.
This week the average price of gas in Ann Arbor was $3.223, up from $3.173 last week. And last year at this time the average gas price was $2.643, according to AAA Michigan.
Ekins said her family has had to cut back on things, such as going out to eat, so they can better afford the gas she needs to travel the 35-some miles each way to her job. She estimates she spends about $60 to $80 on gas each week and sometimes relies on the tips she earns to pay for it.
"Some nights, if I had not gotten those tips, I don't know how I would have got home," she said.
Mark Griffin, president of the Michigan Petroleum Association and the Michigan Association of Convenience Stores, said he could not offer a projection as to how high gas prices could climb because "no one knows."
"If you just go back to the basics, it's about supply and demand and it's about speculation," he said.
Griffin said crude oil prices are what drive retail gas prices, and the price of crude oil fluctuates.
"On January 8, it was around $90. Toward the end of January it was down around $85," he said, referring to the price per barrel. "It moves around a lot."
Griffin explained how the price drivers pay at the pump can be broken down. On Feb. 3, in Lansing, Michigan, the average retail price of gas per gallon was $3.10. Of that $3.10, on average:
• $2.50 accounted for the "product-only price," or the price of 87-octane gas. • 2 cents for freight • 18.4 cents for federal motor fuel tax • 19 cents for Michigan motor fuel tax • .875 cents for Michigan underground storage tank fee • 16.5 cents in sales tax on the retail price • 10.7 cents went toward the cost of running a gas station, such as labor and utilities • 5.6 cents for credit card fees
The total cost of $3.23 per gallon, minus the average retail price of $3.10 per gallon, means gas stations in Lansing were losing an average of 12 cents per gallon that day, Griffin said.
"There are so many gas stations chasing what has been a declining number of customers," Griffin said. "We survive off the inside sales."
Inside sales include sales of candy, pop, snacks and other convenience items. Griffin said gas stations — like consumers — prefer it when they can sell gas at a lower price, as it brings in more customers and increases inside sales.
Karena Huff of Howell commutes to her job as a undergraduate student services assistant at the University of Michigan Department of English, Language and Literature.
"I have two kids, so we've had to cut down on going to McDonald's or pizza nights," said Huff, who is also a part-time student at Washtenaw Community College working toward an associate's degree in administrative assistant technology.
"I just cut back on my cable," she added.
Huff said she has commuted to her job for about two years and estimates she spends about $75 a week on gas.
"The oil companies are rich enough," she added. "How do they expect us to live every day if the prices keep going up?"
Andrew Brix, energy programs manager for the city of Ann Arbor, said that while no one knows for sure what will happen with the price of gas in the short term, the fact that there is a finite supply is bound to create challenges.
"We know that there's a limited amount of oil in the ground and at times that's going to mean we have tight supplies," Brix said. "And that means prices are going to be more variable than they have been in the past."
He added, "We have to be prepared for the fact that gas prices may be high and may stay high."
Cain said that while drivers can't control the price of gas, they can make some small changes to save money, such as driving slower, driving less, keeping the engine in good repair, and not buying premium gas unless the vehicle requires it.
• Click here for more information on gas prices in Michigan and across the U.S.
Heather Lockwood is a reporter for AnnArbor.com. Reach her at heatherlockwood@annarbor.com or follow her on Twitter.