Posted on
Tue, Jun 29, 2010 : 10:36 a.m.
Gay rights groups endorse Mayor John Hieftje over Patricia Lesko in Ann Arbor mayoral race
By Ryan J. Stanton
A group committed to fighting for gay rights has endorsed Mayor John Hieftje in the Ann Arbor mayoral race instead of his opponent, who is running on a platform touting the fact that she'd be only the second openly gay mayor in Michigan's history.
Officials from the Michigan Democratic Party's Lesbian, Gay, Bisexual, Transgender & Allies Caucus said after a vote of their candidate committee, they are happy to announce their endorsement of Hieftje, who is straight.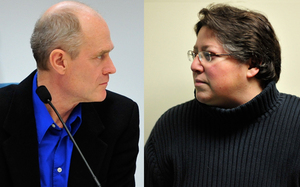 Ryan J. Stanton | AnnArbor.com
Hieftje's lone challenger in the Aug. 3 Democratic primary is Patricia Lesko, who is married to her partner of 19 years, Marjorie Winkelman Lesko.
Lesko has come under fire recently for sharing false information with voters and for some of the controversial posts on her blog, A2Politico.com.
A second gay rights group called Lesbians Opposing Lesko recently launched a website, calling Lesko "destructive and deceitful" and saying she'd be a "complete disaster" and "downright embarrassing" as Ann Arbor's mayor.
In a letter dated Sunday, the LGBT group's candidate committee co-chairs, Duane Breijak and Michelle Brown, lauded Hieftje for his strong positions in support of LGBT rights.
"Shortly we will let our Caucus members know of your endorsement and we will encourage them to help with your campaign in any way possible," the letter reads. "It is important to get you elected as we need strong legislators in office that will stand up for LGBT rights as well as hold strong democratic values."
The group vowed in the letter to fight hard for Hieftje's victory in the upcoming primary and November general election to make Michigan a fairer, more equal state for all citizens.
Hiefjte, who was actively involved in the statewide campaign against a gay marriage ban in 2004, has prided himself on being responsive to issues involving gay rights.
"Our campaign always welcomes support from people who feel that my work is worthy and I have been working for many years on issues the LGBT Caucus is concerned with," he said.
Under his leadership, Hieftje said, Ann Arbor remains steadfast in maintaining benefits for city employees in same-sex partnerships, despite pressure by the state attorney general's office to cease providing those benefits.
"We've resisted and continue to provide those today," Hieftje said.
Lesko offered her comments on the LGBT endorsement in an e-mail to AnnArbor.com late Monday afternoon.
She said Phil Volk, chairman of the caucus, originally informed her many months ago that the group had chosen to endorse Lesko. According to Lesko, the caucus members wanted to oust what Volk referred to as the Democratic "clique" in Ann Arbor, specifically Hieftje and 1st Ward Council Member Sandi Smith, who is openly gay.
"Those who gave the endorsement to me gave it deliberately to thumb their noses at Mayor Hieftje and Sandi Smith," Lesko said. "It's why I didn't publicize the group's endorsement to the press. Evidently, when confronted by Smith and Hieftje, the caucus members chose to back down."
Hieftje said he was dumbfounded by Lesko's allegations.
"I have no idea what she's talking about. I'm really kind of speechless," he said. "I don't know how to respond to that. I have no idea where that's coming from."
Volk said he spoke with Lesko several months ago, was excited an openly gay candidate was running for mayor, and told Lesko he was going to do his best to support her. But he said he never promised the LGBT endorsement.
"The bottom line is the caucus has to endorse people who are the best for the LGBT community, and that means they have enough skill sets to make things happen," Volk said. "And in her case, things started unraveling very quickly, and she doesn't have the skill sets to be a good mayor and be the best person looking out for LGBT interests."
Volk said Lesko has blown the situation out of proportion, which he argued is reflective of her "poor campaign style" and willingness to lay blame where it doesn't belong.
But Lesko produced a June 2 e-mail from Volk that lends some credence to her case. In the e-mail, Volk wrote the main body of the LGBT Caucus had decided to "override" his endorsement of Lesko's campaign. "Sorry," Volk wrote.
Volk told AnnArbor.com he was trying to word it nicely to "soften the blow" and probably "miscommunicated." He said he had a talk with Hieftje and changed his mind about supporting Lesko based on differences he saw between the candidates.
"The more I saw the difference, I just felt clearly we couldn't support her," Volk said.
The LGBT Caucus endorsed Smith two years ago when she ran against Lesko for the 1st Ward seat on City Council. Smith's campaign website currently lists both Volk and the Caucus as supporters of her campaign.
Volk said his caucus also is endorsing incumbent Council Member Margie Teall, who faces challenger Jack Eaton in the 4th Ward race. Eaton, who has aligned himself with Lesko, is one of four candidates running as an unofficial slate trying to oust the current council majority.
The other two members of the slate are Sumi Kailasapathy, who is running against Smith in the 1st Ward, and Lou Glorie, who is running against Carsten Hohnke in the 5th Ward.
Ryan J. Stanton covers government and politics for AnnArbor.com. Reach him at ryanstanton@annarbor.com or 734-623-2529.