Posted on
Wed, Feb 6, 2013 : 5:59 a.m.
First-responders adjust when U-M's Survival Flight is grounded
By Kyle Feldscher
When 11 people are injured in a three-car crash, including one person who is trapped in a vehicle for a long time, it's not unusual for emergency crews to call in the University of Michigan Health System's Survival Flight.
But, when Survival Flight is grounded, what happens?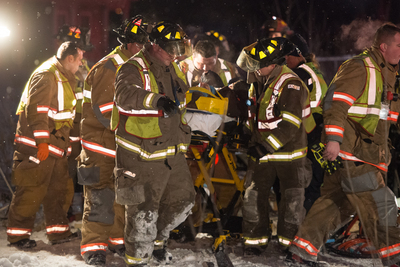 Courtney Sacco I AnnArbor.com
"You do what you have to do," said Superior Township Fire Department Capt.
David Judson
. "If the helicopter is available, great, we'll use it. If not, it's not like our hands are tied. We just have to adjust."
Firefighters and Huron Valley Ambulance crews were faced with that situation Monday evening, when a Ford F-150 truck crossed the centerline on Geddes Road west of Prospect Road and hit a Ford Escape. A Chevrolet van then hit the Escape and 11 people were injured in the crash.
The investigation into the crash continues and the 26-year-old man who was driving the Ford F-150 has not been cited for causing the crash. Deputies said Tuesday any citations will come after the investigation is completed.
Survival Flight was called in to transport some of the injured away from the scene. They included a 41-year-old woman who had broken legs, a broken pelvis and a collapsed lung and a 16-year-old girl who had internal injuries that required surgery.
However, Survival Flight helicopters could not fly to the accident scene because of the snowy conditions and low cloud ceiling Monday evening, said Kara Gavin, spokeswoman for the University of Michigan Health System.
It's up to the pilot's discretion to determine whether the weather conditions are safe for flight, Gavin said.
More information on what kept the helicopters on the ground was not available Monday as Gavin was waiting to hear from the pilots on duty at the time. The pilots are employees of Pentastar Aviation.
Ten of the injured people were taken to Washtenaw County hospitals, including University of Michigan Hospital, St. Joseph Mercy Hospital and C.S. Mott Children's Hospital.
Huron Valley Ambulance spokeswoman Joyce Williams said the helicopter was a luxury in this case because the crash was not far from the nearest hospital, St. Joseph Mercy. The 41-year-old woman was trapped in the Escape for an extended period of time, which is why Survival Flight was activated.
"When you have somebody who is taking a long time to be extricated or has suffered trauma, speed is of the utmost importance," she said.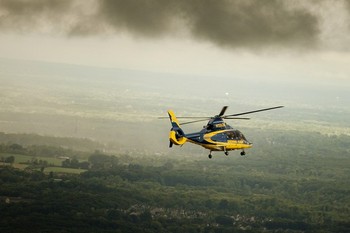 Jeffrey Smith | AnnArbor.com file photo
Once it was clear the helicopters were not going to be able to fly, Williams said HVA's contingency plan was to transport the patients by ambulance. It wasn't a tough adjustment because that's what the service always originally plans on doing.
"Nothing really changes, because our plan is to take the patient anyway," she said. "Survival Flight is a bonus. If the weather is good and they can fly, we'll use them."
It sometimes seems that the only constant in emergency situations is their individual uniqueness.
Judson said emergency personnel plan for different situations but always manage to find each situation is unique. He said it's necessary to have a seamless transition between the Plan A of HVA transporting patients, to Plan B of Survival Flight taking a patient, to Plan C of HVA transporting all the patients.
"You can plan for all sorts of situations, but the individual ones are different," he said. "I've done hundreds of extrications, but yesterday's was different than any one I've ever done and the next one will be different than any one I've ever done."
Reporter Amy Biolchini contributed to this report.
Kyle Feldscher covers cops and courts for AnnArbor.com. He can be reached at kylefeldscher@annarbor.com or you can follow him on Twitter.