Posted on
Thu, Mar 14, 2013 : 11:30 a.m.
More snow headed for Ann Arbor: Up to 3 inches expected overnight Friday
By Cindy Heflin
5:30 p.m. update: The National Weather Service has revised its forecast and is now predicting less than half an inch of snow Friday during the day and 1 to 2 inches overnight Friday.
Despite the groundhog's forecast, winter just won't go away.
A fast-moving storm system could dump 3 or more inches of snow on the Ann Arbor area Friday and Friday night, the National Weather Service says. And next week will bring a chance of snow showers every day through Tuesday.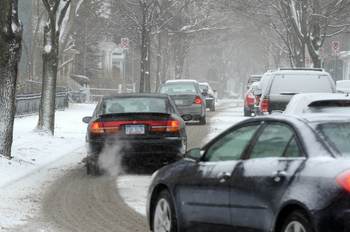 The precipitation could start Friday morning with snow and freezing drizzle. After 1 p.m., forecasters expect snow, possibly mixed with rain. During the day, accumulation will amount to less than one inch, the weather service says. The high temperature will be about 43 degrees.
Snow, possibly mixed with rain, will continue Friday night and will become all snow after midnight, forecasters say. Accumulation of 1 to 3 inches is expected. The chance of precipitation is 90 percent, the weather service said. An overnight low of 26 is expected.
Saturday will bring a mostly cloudy day with a high near 38 degrees. Sunday will be partly sunny with a high near 33.
Snow showers are possible Sunday night and every day through Tuesday.
For updated weather conditions and forecasts anytime, check AnnArbor.com's weather page.