Posted on
Wed, Nov 18, 2009 : 5:12 p.m.
Getting a good laugh in has its health benefits, Ann Arbor laugh yoga club says
By Tina Reed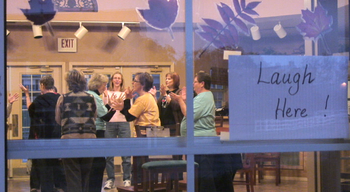 Participants at a recent Ann Arbor Laughs monthly club meeting clap during an exercise to help simulate laughter while practicing laughter yoga. The idea is to get together in a group of people and both simulate laughter and take advantage of the infectious nature of laughter to reap the mood and health benefits of a good chuckle.
Tina Reed | AnnArbor.com
Laughter yoga doesn't begin with the typical muscle warm-up or the kind of stretching one might expect from a form of yoga.
Instead, at a recent Ann Arbor club practicing the yoga form, it began with deep inhales of yogic breathing - which sounded like rather forced "Hee, hee, hees" and "Ho, ho, hos" - before several local residents fell into easily laughter.
The handful of local residents were warming up their voices, trying to prepare themselves for nearly a solid hour of laughter.
The session was being held by members of a new local club called Ann Arbor Laughs, which encourages attendees to loosen up and allow themselves to feel silly - all for the sake of a good laugh.
For instance, attendees were encouraged at points to sing, to take turns belly-laughing out loud and participate in activities like pretending to open an exorbitant utility bill and forcing themselves to laugh it off.
That laughter can bring serious mood and health benefits, such as relief from depression, said certified laughter yoga instructor Pam Martin.
The idea of laughter yoga was started by a doctor named Madan Kataria in India in 1995.
Kataria had the idea to start free public laughing clubs and gathered a few friends in a park to tell jokes. The idea was to purposefully take advantage of the health benefits of laughter, which includes a lowering of stress hormones, like cortisol, in the blood and fostering more positive attitudes.
According to his Web site, there are more than 6,000 laughter clubs in 60 countries around the world. There have been a handful of opportunities to practice laugh yoga, including at the University of Michigan's program now known as MHealthy, in the past two years.
At the new Ann Arbor club, the laughter does seem to be infectious.
Attendees begin to easily chuckle as they chat with each other between exercises. As the evening progresses, the exercises that "simulate" laughter begin turning into real giggles, snorts and laughs.
"For a lot of people it's hard to do at first because they feel silly," said Barb Fisher, a certified laughter yoga instructor. "But if you just laugh - and you don't have to mean it - you're body is going to get all the benefits, especially when you're in a group like this."
Fisher said she became interested in laugh yoga when she realized she just wasn't laughing enough as she got wrapped up in day-to-day stress. When you make an effort to practice, it gets easier to laugh in other parts of your life, she said.
Suzanne Brousseau, right, enjoys a laugh during a recent meeting of the Ann Arbor Laughs club.
Tina Reed | AnnArbor.com
Attendees said they feel their moods are lifted and they get a bit of a workout from the deep breathing and the effort of a good belly laugh.
"The overall effect was a feeling of lightness, and I just feel euphoric," said Suzanne Brousseau, a Northfield Township resident. "It's not like you're out with your friends and you're sitting around the table telling jokes. It is actual exercise and I feel like I've exercised," Brousseau said. "Who doesn't like to laugh?"
Tina Reed covers health and the environment for AnnArbor.com. You can reach her at tinareed@annarbor.com, call her at 734-623-2535 or find her on Twitter @TreedinAA.