Posted on
Thu, May 27, 2010 : 11:15 a.m.
Giant beer bottle hot air balloon spotted in Dexter
By Tina Reed
Call this one tall drink — 15 stories tall.
A giant beer bottle could be spotted from I-94 as commuters made their way through the Dexter area Thursday morning.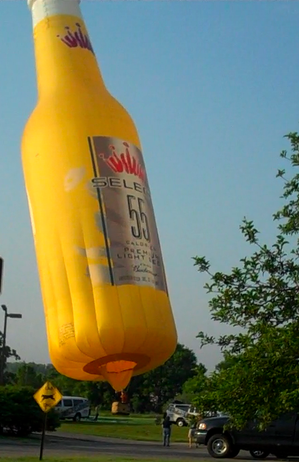 Tina Reed | AnnArbor.com
That bottle — a hot air balloon — was being inflated on the grounds at Cameron Balloons, which designs and constructs custom-made hot air balloons.
Their recent creation was commissioned by Anheuser-Busch, Inc.
Being called Flight 55, the balloon replica of a bottle of Select 55 beer will be used to promote the product at festivals around the country this summer, according to Anheuser-Busch. The tour will be "a summer long journey to find the most interesting festivals and foods in the country."
In an online video, representatives from the company said the beer is the "lightest beer in the world," and they thought it made sense to make a bottle that would literally float.
When inflated, the cap of the bottle is 164 feet above the ground.
In the online video, sales representative and pilot Paul Petrehn said a typical balloon might take two to three weeks of production time. "This balloon's probably going to have about four to five weeks worth of production time due to the sophisticated artwork that needs to be applied to it."
Cameron Balloons in Dexter makes about 50 custom-made hot-air balloons a year. The small factory produces balloons from nearly start to finish - from hand-weaving the baskets to sewing together the colorful panels that create balloon envelopes, which usually stand about 70 feet tall when inflated.
The company has made notable balloons, including some for the Super Bowl in 2008 and a replica from the Disney/Pixar movie "UP" of a house attached to hundreds of balloons.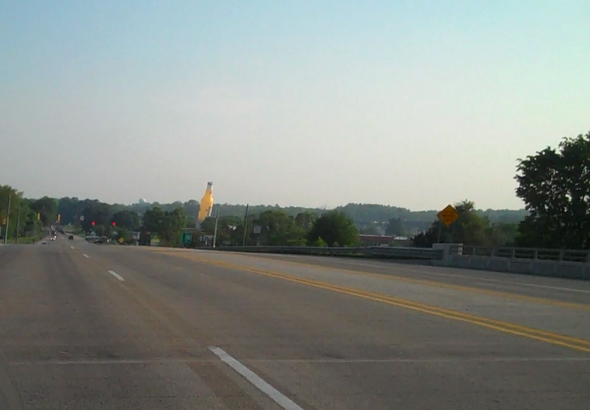 Tina Reed | AnnArbor.com
Tina Reed covers health and the environment for AnnArbor.com. You can reach her at tinareed@annarbor.com, call her at 734-623-2535 or find her on Twitter @TreedinAA.