Posted on
Wed, Jul 27, 2011 : 5:55 a.m.
Glazier Way residents in Ann Arbor upset over VA shuttle buses going through neighborhood
By Ryan J. Stanton
Ryan J. Stanton | AnnArbor.com
Residents along Glazier Way in
Ann Arbor
say they're growing tired of the steady stream of shuttle buses coming and going between the
VA hospital
and
Huron Hills Church
— a situation they say is eroding the integrity of their otherwise peaceful neighborhood.
"It's back and forth, back and forth, in the morning and the evening," said Helen Aminoff, a retiree who lives with her husband in a 27-unit condominium complex near the corner of Huron Parkway and Glazier Way.
They say they regularly hear the shuttles coming and going and they're hopeful a solution can be reached to at least reduce the frequency of the trips.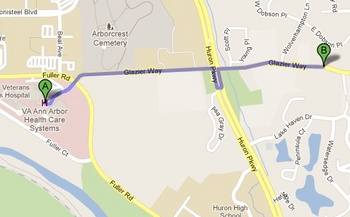 Google Maps
The VA hospital and Huron Hills Church, 3150 Glazier Way, are now one year into a three-year deal that has the VA paying $82,335 a year to lease 200 parking spaces at the church.
Two shuttles run on a continuous loop from 6 a.m. to 6 p.m., transporting VA employees between the hospital and the church, located about a mile east on Glazier Way.
VA officials say the hospital needs the satellite parking space due to growing numbers of veterans coming in for care and rising staffing levels to meet those demands. They say the situation with the church is only temporary until a new parking garage can be built next to the hospital.
Rick Ratliff, head of the Glazier Way Association, said he and other residents have been trying to work with city officials to reach a more immediate solution.
Ratliff said he moved into the Glazier Way neighborhood about 18 years ago because the area was beautiful and peaceful. But for the past several months, about every 10 minutes for 12 hours a day, a series of "howling, screeching shuttle buses" go by his house.
"We and our neighbors are the victims of the noise and traffic generated by this commercial enterprise," he said. "The buses literally wake us up every morning and annoy us all day long."
City Council Member Stephen Rapundalo, D-2nd Ward, said he's sympathetic to the concerns raised by Glazier Way residents. He said he's been trying to see what the city can do and he's been in contact with the city's planning department and the city attorney's office.
From what he's learned so far, Rapundalo said it appears the use of the church's property as a satellite parking facility and shuttle location for the VA isn't allowed under the current zoning. But it also appears there might not be much the city can do about that.
"We have another governmental unit that obviously plays by its rules," Rapundalo said. "Obviously this is not a church function, thus it would violate the zoning regulations. But by the same token, it's my understanding that since a federal entity is involved, they have preemption, as with the University of Michigan or other state agencies, so that complicates things."
Wendy Rampson, the city's planning manager, said it's true the VA is exempt from the city's zoning, and that applies even to the off-site use of the church parking lot.
Ratliff said it still doesn't seem right. The way he sees it, what's at stake are the rights of taxpaying citizens in Ann Arbor to control the quality of their neighborhoods.
"Here we have two non-taxpaying entities conspiring on a revenue-generating project without even consulting the people in the neighborhood or, apparently, without considering the zoning requirements," he wrote in an email to Rapundalo this week. "If this is allowed to stand in one of the more affluent neighborhoods in Ann Arbor, then no neighborhood is safe."
Long-term parking plans
Christa Stoiber, a spokeswoman for the hospital, said the VA is interested in hearing the residents' concerns and will try to address them.
"We certainly want to work with the community. We don't want there to be any disruptions," she said. "We certainly want to be a good neighbor."
Stoiber said increases in both staffing levels and the number of patients coming to the VA hospital are driving the need for the off-site parking arrangement.
"We have more veterans coming in getting services here," she said. "Our workload has grown quite a bit, so what this did is it freed up parking spaces for veterans."
The hospital currently has about 2,163 employees, though that includes both part-time and full-time positions.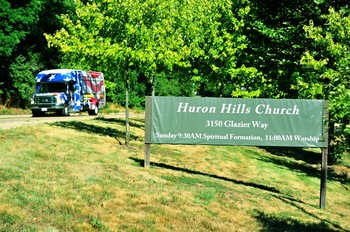 Ryan J. Stanton | AnnArbor.com
Stoiber said the lease with the church is intended to be a temporary situation to meet the VA's parking needs. She said the hospital has longer-term plans for a new parking garage next to the hospital that would include more than 300 additional spaces.
Funding for the project hasn't been approved yet, she said, but it's in the design stage and the hope is to start construction next spring.
"We've always known this is a temporary situation," said Ken White, lead pastor at Huron Hills Church. "I fully expect them to build that parking structure and move toward that quickly."
In the meantime, White said the church is interested in cooperating on a solution that works for everybody. But the way he sees it, the church is meeting a need and helping veterans.
"I think the VA who approached us on this created a mutually beneficial situation for us as a church and for them to be able to provide parking," he said. "We're glad to do that."
A sensitive situation
Rapundalo said residents along Glazier Way are extra sensitive about the issue given the background behind the road and how it originally came to be paved.
The paving of Glazier Way, formerly a gravel road, was completed in the fall of 2000 after a year and a half of construction. Anytime gravel roads are upgraded to pavement in Ann Arbor, property owners pay 100 percent of the costs through special assessments.
City Assessor David Petrak said about 110 properties along Glazier Way were assessed to pay for nearly $700,000 in costs on the project, and the church was included in that.
Rapundalo recalled there was a lengthy and acrimonious dialogue about how to best reconstruct the winding, hilly road several years ago.
"In the end, basically, the design was such as to specifically limit commercial traffic and so forth, because that was largely a major cut-through between two major thoroughfares," he said, noting the speeds were set specifically at no more than 25 mph to achieve that.
"So now to have larger vehicles moving larger amounts of people back and forth all day on a regular basis is rather intrusive and certainly disruptive," he said. "And I think that's what really has the neighbors upset and, in some regards, justifiably so."
Residents believe the extra traffic is speeding up the deterioration of Glazier Way, a street they note was once designated a "Natural Beauty Road" back in the 1980s.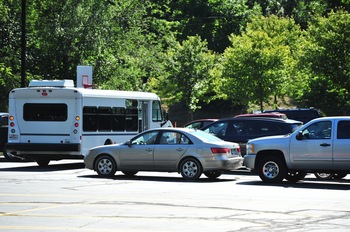 Ryan J. Stanton | AnnArbor.com
Aminoff thinks residents have been dealt a bad deal.
"It's wear and tear on the road, but really it's more than that," she said. "I question the use of commercial vehicles up and down Glazier Way and the frequency. The question is should the church be doing this and should this be done on our city roads?"
Kirk Pennington, who oversees street maintenance for Ann Arbor, said eventual maintenance of Glazier Way, if there is wear and tear, would be funded by state gas tax money. Though, if it needs to be completely reconstructed, that would come from city taxes.
Rapundalo said he's hopeful the city can strike a deal with the VA and the church to at least reduce the frequency of the shuttles, and possibly find quieter vehicles. AnnArbor.com observed during Tuesday's rush hour that the shuttles came and went from the church parking lot about every 5 to 10 minutes, often with only three or four VA employees at a time.
"I'm sure they're not all full and they go up and down every few minutes — maybe they can go every half hour," Aminoff said.
However, Ratliff said, he thinks the VA should try to find other parking lots to lease space from without destroying the peace in what he considers one of Ann Arbor's prettiest neighborhoods.
"When the road was improved, it was with the understanding it was not going to become a commuter road or a connector road, and that's exactly what the church — by entering into this agreement — has made the road become," said Ratliff, who lives at the corner of Glazier Way and Wolverhampton Lane where the shuttles stop.
"This is a business enterprise that was just undertaken without at all seeing how we would feel about it," he said. "It feels like we're powerless to do anything about it. It's a really annoying thing, it's increased the traffic in our neighborhood, it's noisy, it wakes us up in the morning, and it keeps going into the evening. It just seems like we're being bullied."
Ryan J. Stanton covers government and politics for AnnArbor.com. Reach him at ryanstanton@annarbor.com or 734-623-2529. You also can follow him on Twitter or subscribe to AnnArbor.com's e-mail newsletters.