Posted on
Wed, Jun 15, 2011 : 5:59 a.m.
Consultant: Ann Arbor schools on the right track on closing achievement gap
By Kyle Feldscher
Related story: MEAP test scores show Ann Arbor schools achievement gap continues despite some progress
The work to close the "achievement gap" in Ann Arbor Public Schools has been going on for years and years and the head of the consulting firm hired to assist AAPS said the district has a firm anchor on the work.
Glenn Singleton, the president and chief executive officer of Pacific Educational Group, spent about 30 minutes speaking with AnnArbor.com Tuesday on a wide range of topics relating to his company and Ann Arbor schools.
Singleton said his group works to identify students in school districts who are traditionally "underserved" — - usually racial minorities. After working with Ann Arbor schools for a number of years, he said the district is making progress with equity work but needs to expand its work to include parents, families and community members. However, he believes the future holds promise in Ann Arbor.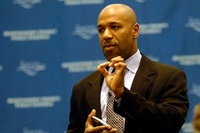 Courtesy of Montgomery County Public Schools
"At some point, you see if the district is going to fly or not take responsibility and I think Ann Arbor is going to fly," he said.
Here are a few excerpts from AnnArbor.com's conversation with Singleton.
Q: In layman's terms, what exactly does Pacific Educational Group do with school districts?
A: What we do is we engage with the districts as a partner in bringing about a systemic equity transformation, which means we work with all parts of the system to reorganize, reculture and restructure so the districts serve the needs of all students. … Equity for us is about ensuring black and brown students accelerate performance while maintaining that other students continue to achieve a high level. All students have to do better, while accelerating the performance of black and brown students. We do it through the professional development of leadership, teachers, district and site leadership and with families, parents and community members.
Q: What has your experience been like working with Ann Arbor schools? A: Basically, this began with a series of workshops for administrators, and that was before Ann Arbor opted into a plan for the whole district to change. Now, we're drilling down to the classroom teachers. … We're at the stage right now where Ann Arbor is engaging most of the framework, but families and communities are not attended to the degree it needs to be. What I explained to the board was in my observation of the district is that I see some outstanding implementation of equity work at specific sites and at other sites, I don't see that same level of implementation. Q: How do you report your findings to the district?
A: What's most important is a contant monitoring of what we would look at as summative data, like standardized tests, but also the teacher-produced type of assessments. All of those add up to how kids are experiencing school and what are chances for success. We're constantly monitoring the data and that's one of the earliest things we engage in.
Student achievement goals are the ultimate measures. They're always apart of the conversations we're looking at. (Singleton also mentioned suspension data, graduation rates, more diverse school environments and the comparison between performance on teacher assessments and on standardized tests as measures Pacific Educational group uses).
Q: Some parents here in Ann Arbor have been bothered by language like "Be aware of your whiteness," which is in Pacific Educational Group materials. How do you deal with that discomfort?
A: Well, race is uncomfortable. That adult discomfort has enabled us to continue under-serving students. Basically, we watch each generation grow up with the same racial baggage and we're still not answering questions surrounding race, like why do these issues exist in a society or in a community like Ann Arbor where people will profess to a lack of racism and they are color blind. No one is colorblind. The question that creates discomfort is when you are not allowed to profess yourself as colorblind and you have to talk to me as what you see as racially determined.
It's not race that's the problem, it's the meaning affixed to race. We grow a generation of kids up with the strange understanding of what race is and how it operates. … If the privileges are not spoken about, we can't talk about the way that schools perpetuate that system of inequity.
Q: Your services have cost the district about $441,000 since March 2005, why should the district keep paying for your services?
A: More than half of that number goes to the expense of getting us into the district … it's not a fee. It goes to places like United Airlines, the Four Points Hotel in Ann Arbor, really the district funds locally where we go to eat, it's not a fee. … I have a team of five or six people that have been working in Ann Arbor, we have an organization of 16 people. Most of that money does not come to my organization but to companies that get us there and keep us there.
The more important question the Ann Arbor community has to ask itself is what is the value of this work? It's an ideological value. People are very uncomfortable about this work, particularly white families. There's a belief that is contrary to our work that there is a zero-sum value and any work for black and brown students is taking away from white students. We're not trying to flip the system upside down. We want high-performing students to perform at a high level, we just want to catch everyone else up. I would like to ask of Ann Arbor, what is it worth to you to have a full community of highly educated students that are participating, literate and having an engaging and wonderful experience being in school and living in the community?
Q: What role do you see Pacific Educational Group playing in the district in coming years?
A: In our framework, there are three focus domains. There's leadership, learning and teaching and the community. Ann Arbor has an anchor in leadership domain and in the learning and teaching domain and what I really feel we need to do is get at the community domain. This includes how the board works, because they are the voice of the community and are constituency bound. There's a way of engaging effectively with parents who are disconnected from their kids in school and we work with black and brown families in the community to develop a high level of trust and engage in a meaningful way that supports students' advancement in the system. We're looking at that in the coming years.
I don't see the third domain operating yet. That part needs to be there. We need to shore up that piece when all three parts are working, I think the district does need a concrete transformation plan, and how they progress in a way that has measurable goals merged with the district's strategic plan and the district improvement plan is a key piece for the coming year.
Kyle Feldscher covers K-12 education for AnnArbor.com. He can be reached at kylefeldscher@annarbor.com or you can follow him on Twitter.