Posted on
Thu, Mar 17, 2011 : 7:59 a.m.
Going green: Washtenaw County's new district court facility achieves LEED Silver certification
By Ryan J. Stanton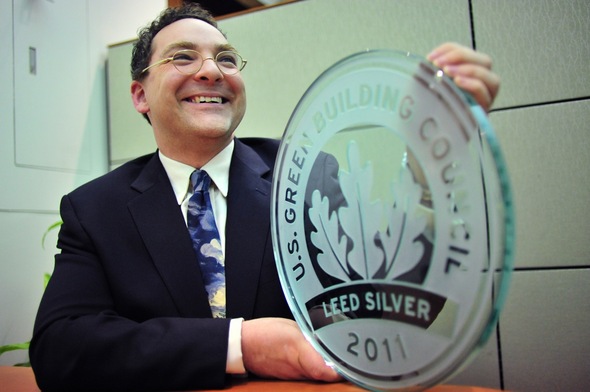 Ryan J. Stanton | AnnArbor.com
Washtenaw County officials were presented with an award at Wednesday's county board meeting, recognizing the new 14A-1 District Court facility for achieving LEED Silver certification for energy efficiency and environmental design.
The certification comes from the U.S. Green Building Council, a nonprofit organization dedicated to sustainable building design and construction.
The new facility opened at 4133 Washtenaw Ave. in Pittsfield Township last July. The project was done in combination with the county's jail expansion at a cost of about $37 million.
County Commissioner Rob Turner, an electrical contractor from Chelsea, praised the energy efficient features of the new facility as "the way of the future."
"By going with green technologies, what you're going to end up doing in the long run is you're saving money," he said. "Not only are you being responsible in how you're building it, you're going to be energy efficient. That is really being responsible with the citizens' money."
The exact certification is LEED NC 2.2 Silver, according to Tower Pinkster, an architecture and engineering firm with offices in Kalamazoo and Grand Rapids.
County officials worked with a project team that consisted of Tower Pinkster, HOK, Clark Construction, Becket and Reader and Robert Darvas Associates.
Following the U.S. Green Building Council's rating system, the project earned points across five categories: water efficiency, energy and atmosphere, materials and resources, indoor environmental quality, and innovation and design process.
County Board Chairman Conan Smith, D-Ann Arbor, gave credit to Commissioner Wesley Prater and former Commissioner Jeff Irwin for pushing the county to start thinking about — and eventually adopt — green building standards about four years ago.
"LEED was growing, was on the rise, and we really hadn't done any work in that regard, so we had some conversations about greening facilities," Smith recalled. "We talked about a biomass incinerator out at the jail, and we couldn't get the votes to do that. But we could get the votes to do LEED-quality development for this project. And it's a first — it's actually a county board policy that has been a long time in the making coming to fruition."
Some of the project's sustainable features include:
A high-performance building envelope
A white, solar reflective roof
Controlled daylighting in each court room and regularly occupied spaces
Low-emitting materials for a healthy interior environment
Decentralized heating plants
The use of local materials and equipment
94 percent of the total wood-based building materials were harvested from Forest Stewardship Council-certified forests
77 percent of onsite-generated construction waste was diverted from landfills
24 percent of the total building materials content, by value, was manufactured using recycled materials
Low-flow fixtures contribute to water savings of 58 percent
David Shirley, the county's facilities operations manager, said the goal was to attain LEED certification at a minimum, so to achieve LEED Silver is exciting.
He said the county anticipates energy consumption will remain relatively flat with no significant increases even with the additional 83,000 square feet of new space.
The new facility features a single point of entry to the courthouse, sheriff's administration and the jail, which officials say greatly increases security. The courthouse is comprised of three courtrooms, judge chambers, jury assembly and court clerk space. There also are secure holding areas for each courtroom with a direct connection to the jail.
County officials say the jail expansion was needed due to overcrowding. And the space where the previous 14A-1 District Court had been housed — in a retrofitted monastery built in the 1950s — had raised security concerns. The new court replaced and expanded the former Huron Valley Ambulance building next to the jail, offering more options for maintaining public security.
By using less energy and water, officials say the building saves money in operating costs and has a positive impact on the environment.
According to Tower Pinkster, the design will result in a 27 percent energy savings, translating to 447 tons of greenhouse gas emissions prevented from entering the atmosphere each year.
Ryan J. Stanton covers government and politics for AnnArbor.com. Reach him at ryanstanton@annarbor.com or 734-623-2529. You also can follow him on Twitter or subscribe to AnnArbor.com's e-mail newsletters.