Posted on
Sun, Sep 19, 2010 : 9:04 a.m.
Going solar: Ann Arbor man plans to make history with first 'net zero' home in a historic district
By Ryan J. Stanton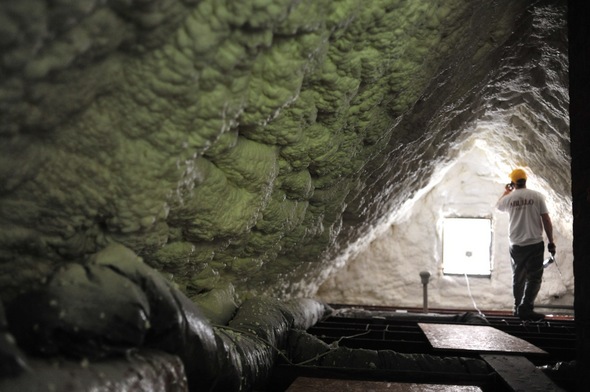 Ryan J. Stanton | AnnArbor.com
When Matt Grocoff and his wife, Kelly, bought their 110-year-old Victorian home four years ago, it came complete with asbestos, lead paint, a half-century-old furnace and no insulation.
The month before they turned on a newly installed geothermal energy system in January 2007, their monthly utility bill was $350, Grocoff recalls.
"So, we would have been paying about $2,800 a year in utilities to run our house, which is about average for an old house," he says. "Now multiply that by 20 years, that would be $56,000, assuming that utility prices stay exactly the same."
Instead of paying through the roof (literally, there was no attic insulation) over the next two decades, the founder of Greenovation.TV has been on a mission making energy efficient improvements to his home on South Seventh Street on Ann Arbor's Old West Side.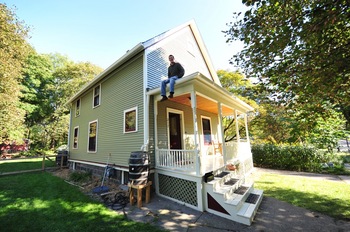 Ryan J. Stanton | AnnArbor.com
As a contributing writer to Old House Web, Grocoff says he has been studying green building for years. Now he's applying the principles he's learned to his own home.
In the next month, Grocoff plans to install a state-of-the-art solar panel system on the south-facing side of his roof. Once the system is up and running, the home's electric meter will begin to spin in reverse (the home actually will produce more energy than it uses) and Grocoff will start collecting money from DTE Energy for contributing electricity to the power grid.
"We would have spent $56,000. We're going to be netting $40,000 instead, which is a $96,000 swing," Grocoff says. "That'll pay for an Ivy League school for my daughter, I think."
From his own research, Grocoff believes it will be the first house in the entire nation in a historic district to be "net zero," meaning it generates 100 percent of its power from renewable sources onsite all the time. He also believes it will be the oldest house in the United States to be net zero.
"But hopefully not for long," he says. "We're hoping that as soon as people see that it's possible — not just to do it in a brand-new house, but that it can be done in a 110-year-old house on a relatively modest budget — that more people will do this."
Grocoff was able to work out financing for the geothermal system when he bought the house in 2006. He says his out-of-pocket expenses for the solar panel system will be about $14,000 after factoring in tax credits he is receiving from the federal government and from DTE Energy.
He expects to recoup his investment and begin to profit within five years.
"Over the long-term, it's a no-brainer for just about anybody with a roof that faces the sky," Grocoff says. "The only challenge is that you've got these hurdles to get over first."
Daren Griffith, sales and marketing manager for Canton-based Mechanical Energy Systems, stood side-by-side with Grocoff before the Ann Arbor Historic District Commission this month. Griffith, whose company plans to install the solar panels, helped convince the HDC to allow adding the panels to Grocoff's house, which is in the Old West Side Historic District.
"Like I told the Historic District Commission, the money savings — whether it's energy efficiency or whether it's renewable energy, or a combination thereof — really helps their cause," Griffith says. "It helps to preserve these buildings, it helps to make the community more attractive, it all adds up. And the amount of money that Matt's going to save, and the next homeowner's going to save, guess what happens to that savings? It ends up getting rolled back into the economy."
Courtesy Photo
Grocoff has been fielding phone calls for several months from statewide and national media outlets inquiring about his home improvement project. He has chosen a set of black solar panels made by SunPower Corp. of San Jose, one of the oldest solar manufacturers in the United States. The panels will be connected to a set of high-tech Enphase Microinverters.
The way Grocoff sees it, he's making the up-front investment now to provide energy for the life of his house — and, in the future, he expects to keep an electric car charged with the energy his home is producing, further reducing his reliance on fossil fuels.
"What we're doing is proving that it's possible," he says, hopeful that owners of other older homes will follow in his footsteps in the coming years.
"It's not just something that I think will be cool for everybody to go out and get solar," he says. "It's an absolute necessity going forward. Twenty-two percent of carbon emissions in the United States come from our homes. Not from our cars, not from other buildings — from our homes. There are 130 million existing houses out there, so we've got to figure out a way to make them more efficient and make them run off of renewable energy."
Grocoff says cooperation from historic district commissions will play a big role.
"Historic houses are really inefficient," he says. "They've got old, leaky windows, and so there's a long way to go in those historic houses because they're already so inefficient. So we have to fix those. We're not going to tear them down. It would be foolish and environmentally bad judgment to tear down old houses. So we want to preserve them, and a way to do that is to make them as energy efficient as possible and then produce renewable energy onsite."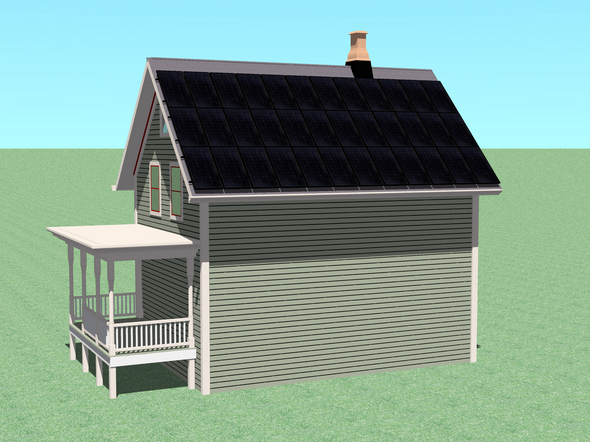 Courtesy Image
Ryan J. Stanton covers government and politics for AnnArbor.com. Reach him at ryanstanton@annarbor.com or 734-623-2529.