Posted on
Thu, Nov 8, 2012 : 6:26 p.m.
Pedestrian dies after being struck by car on Golfside Drive
By Kyle Feldscher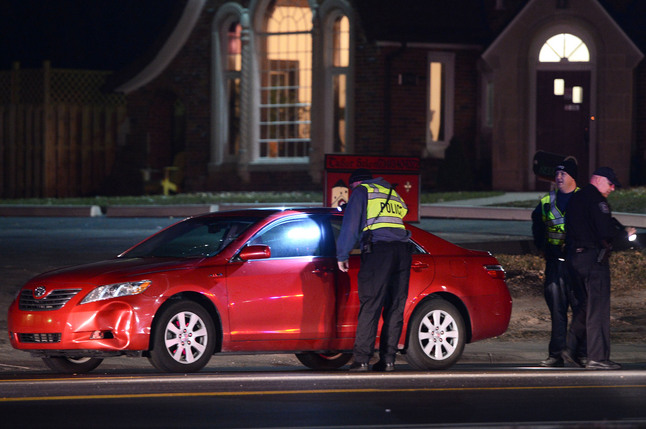 Melanie Maxwell | AnnArbor.com
A 59-year-old Ypsilanti Township woman died Thursday after being struck by a red Toyota sedan on Golfside Drive north of Washtenaw Avenue just before 6 p.m., according to police.
Pittsfield Township Deputy Police Chief Gordy Schick confirmed at 7:25 p.m. Thursday the woman struck by the vehicle died from her injuries. She had initially suffered serious injuries but died while at the hospital.
Pittsfield Township Department of Public Safety officials closed down Golfside Drive north of Washtenaw Avenue after the woman, who was a pedestrian, was struck. Police stated the Toyota was southbound on Golfside Drive when it hit the woman.
Emergency responders were dispatched to the area at 5:53 p.m. Thursday. Dispatchers confirmed the area was being shut down just after 6:15 p.m. so police could investigate the crash.
Pittsfield Township authorities sent out an email alert asking motorists to avoid the area on Thursday evening. It was not clear how long the road would be closed, according to the alert.
A red Toyota sedan was on scene and had minor damage to the front bumper. No ambulances were at the scene as of 6:30 p.m. Thursday. The driver of the Toyota was not injured in the crash, according to police.
The Pittsfield Township police accident investigation team was still on scene at 8:30 p.m. Thursday. The investigation is on-going and there were no arrests made as of Thursday evening.
Anyone who might have information related to the crash is encouraged to call the Pittsfield Township police at 734-822-4911.
Kyle Feldscher covers cops and courts for AnnArbor.com. He can be reached at kylefeldscher@annarbor.com or you can follow him on Twitter.