Posted on
Wed, Mar 2, 2011 : 9:11 a.m.
GOP-backed bill would discriminate against legal residents, Ann Arbor lawmaker says
By Ryan J. Stanton
State Rep. Jeff Irwin says a piece of legislation headed his committee's way in the state House might be best dubbed the "Show Me Your Papers" bill.
But calling it the "Support Our Law Enforcement and Safe Neighborhoods Act," he argues, is a slap in the face to hard-working officers who protect and serve every day.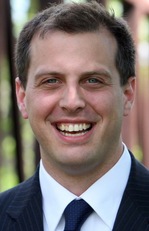 Irwin, D-Ann Arbor, has come out in opposition to House Bill 4305, which he claims would unfairly discriminate against legal immigrants and other legal residents by requiring them to prove their immigration status upon request without justification.
"When people come to Michigan to legally work and live, we should be welcoming them with open arms — not slamming the door in their face," Irwin said in a statement.
The Republican-backed bill would require anyone to prove their citizenship when questioned by law enforcement. It also would require a person to carry an alien registration document with them at all times or be guilty of a misdemeanor punishable by both imprisonment and fine.
The bill, which has been referred to the House Judiciary Committee, has not yet been scheduled for a hearing. However, Irwin said he wants his constituents to know such an extreme bill would expose residents and local governments to unnecessary burdens.
"Our local police have more pressing matters than demanding every non-white person prove their immigration status," said Irwin, a member of the Judiciary Committee. "With projected revenue-sharing cuts and local resources already stretched to the limit, now is not the time to be adding an unfunded mandate to local governments."
The bill is sponsored by state Rep. Dave Agema, R-Grandville. Agema has 16 Republican members of the House co-sponsoring his legislation.
Citing statistics from the Federation for American Immigration Reform, Agema argues in a statement posted on his website that illegal immigration is costing Michigan hundreds of millions of dollars in health care, education, welfare, corrections and other human services.
"Illegal immigration is a security issue, a jobs issue, and a fiscal issue," Agema says on his website. "This legislation is consistent with federal law and protects individual civil rights. Preserving our borders and calling to task those who are in this country illegally is something we owe to ourselves and to our future generations."
Agema said his bill would allow law enforcement personnel to determine the immigration status of individuals when an officer has lawfully stopped, detained or arrested them for a violation. The stipulations regarding legal stops prevent racial profiling, he said.
Agema said his bill also would require verification of legal status for anyone over 18 before that person receives welfare; protects police officers acting in good faith while seeking proof of immigration status; prohibits state agencies from adopting policies that restrict enforcement of federal immigration laws; and allows individuals to seek legal recourse if any official or state agency restricts enforcement of federal immigration law.
"The millions of dollars spent on people who are in this state illegally isn't sustainable," Agema said. "This bill puts a valuable tool in the hands of our law enforcement officers who work to keep us safe and keep our society secure."
Take our poll
Ryan J. Stanton covers government and politics for AnnArbor.com. Reach him at ryanstanton@annarbor.com or 734-623-2529.