Posted on
Wed, Apr 27, 2011 : 11:06 a.m.
Snyder: Fire ineffective teachers after two years of poor performance
By Kyle Feldscher
This story has been updated.
Gov. Rick Snyder proposed sweeping changes to numerous areas of Michigan's education system Wednesday, measures he believes will take the state into the 21st century.
Calling Michigan's educational system "broken," Snyder proposed major reforms to teacher tenure and pay as well as changes to early childhood education, a loosening of some limits on charter schools in the state and expansion of the state's schools of choice program. Snyder said his plan would help update an education system still set on graduating students from high school to work on an assembly line.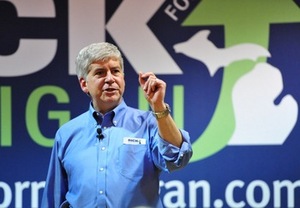 "The benchmark for success in our educational system is how do you go through K-12 and get that high school diploma," Snyder said. "How do you get that high school diploma and have that huge party that says you are now prepared for life? That worked really well for some time, but again the world has evolved and now we're in a position to say we're in an age of technology."
In his speech, Snyder emphasized a performance- and results-based system for many aspects of the educational system, including funding, teacher compensation and changes to tenure.
In his proposal to change teacher tenure, Snyder outlined a model rewarding multiple years of successful teaching. He said teachers who showed continuous growth for three years in a five-year probationary period would be awarded tenure. However, tenured teachers who were found ineffective for one year could start losing tenure status and if they were ineffective for two straight school years, teachers could be replaced.
"After two or three years of ineffective teaching, someone should find a new profession," Snyder said.
Snyder called on state universities to improve their teaching programs and said state teaching certification tests should further prepare teachers leaving college for the job. He said teachers deserve more recognition in terms of compensation, saying the teacher pay system needs to evolve from compensation based on degrees attained and time working as a teacher to one based on performance.
Snyder said he would work with the state board of education to create a category for "master teachers" to keep those in the profession in the classroom as opposed to being steered into administrative positions.
Snyder said he wanted to work with statewide unions and teachers to bring about these changes.
"I'm always open to working with people. The issue here is not picking a fight; it's not that old win-lose attitude that we've had too much in our state," he said. "It's about solving a problem. If anything, I would hope in particular the teachers themselves would help solve this problem."
In his address, Snyder also proposed increasing the number of charter schools in the state.
He said he did not want to lift the cap on charter schools entirely, but did want to lift the cap on charter schools in districts with failing schools. Snyder said he wants to encourage high-performing charter schools and hold them to the same standard that he would hold public schools.
Snyder also said he wants to expand the state's Schools of Choice program.
He said all school districts should allow the program and families should have the freedom to choose the district they want.
"If they have the space available and they've made it clear they have space, after they take care of their in-district needs they should be open to taking kids from other districts," he said. "They shouldn't be able to say those kids can't come."
Snyder also proposed changes to the way intermediate school districts operate, saying he wanted to give intermediate school districts the ability to bid on non-instructional services in any school district.
John Austin, president of the state Board of Education, said he was pleased Snyder took on so many of the board's recommendations and he looked forward to working with board members to define many of the proposals laid out in the governor's address.
"Now, we have a lot of specific work to do to help implement," he said. "We have to design what it means to have a teacher preparation program that delivers teachers who are very effective in raising student achievement, we have to design the process for evaluating teachers on the job in a fair and appropriate way to help them build their skills.
"We've got a lot of assignments but they're assignments we'll happily take because we asked for them."
Among other reforms proposed by Snyder were anti-bullying legislation and increased flexibility in school programs to help high-achieving students be challenged.
Kyle Feldscher covers K-12 education for AnnArbor.com. He can be reached at kylefeldscher@annarbor.com or you can follow him on Twitter.