Posted on
Sun, Jul 3, 2011 : 5:59 a.m.
Gov. Snyder uses 'relentless positive action' to push through tax changes and other reforms
By Peter Luke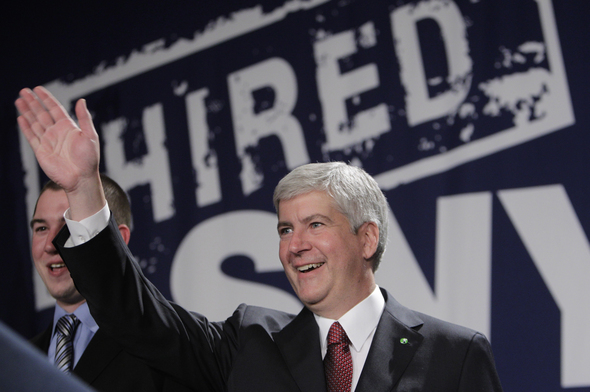 AP Photo | Carlos Osorio
LANSING -- With its bare walls, some upholstered chairs and a conference table, Gov.
Rick Snyder's
office is kind of like a hotel lobby without the charm.
He mentions something about needing to put some Michigan-themed art on display, but it is clear that six months after he moved in, it's still not a top priority.
His priorities are elsewhere and they are being knocked off, one by one, through a political management style Snyder calls "relentless positive action." While reaction is mixed as to whether it's all positive, the dominant view of his record so far is one of relentless action:
• The tax code's been overhauled; the budget balanced four months ahead of past practice.
• The first pieces of the education agenda he announced in April, tenure reform, could be on his desk this month. So too could a measure requiring all public employees in Michigan to pay more for their health-care benefits.
• A regulatory review aims to reconsider decades worth of rules and regulations businesses may oppose, but in some cases also favor because they bring financial benefit.
Snyder came up with the concept of "dog years" to describe the pace, seeking to cram four years of work into six months, or 182 days, which ended Friday.
---
---
It helped that he was navigating his way through a large number of new lawmakers. He also paid less deference to ideological script.
"I've been very impressed in that they've stuck with what they wanted to do and got 90 percent of what they wanted to get done, done," said Bob Emerson, a Democrat who served a quarter-century in the Legislature and was Gov. Jennifer Granholm's budget director for four.
"For a guy who came in with no experience and supposedly an amateur in dealing with the Legislature, he's done an incredibly good job of working with people. It's even hard to pick a fight with him because the perception is that he doesn't get defensive and sticks with what he wants to do."
Melanie Maxwell I AnnArbor.com
Critics say it was easy for Snyder, given big majorities of fellow Republicans in the Legislature. But those Republicans had to cast some tough votes. Extending the income tax to some pension income was one. Cutting K-12 school funding was another.
In an interview this past week, Snyder said the aim of it all -- and the second-half agenda he'll outline in the fall -- is to rebuild an employment base that cratered from Hancock to Detroit.
He intends to gauge success by how Michigan fares compared to the national average in terms of payroll employment and personal income growth after years of falling further and further behind on those measures.
"It's not just about jobs, it's about better jobs, " Snyder said, and by the end of his first term "we'll be significantly better off. I mean we're on a positive path here."
State government won't be creating the jobs, he added, "but we're creating a better environment for success. By removing those (tax and regulatory) impediments, if you let basic economics work, we should grow faster than the national average and start going higher."
Add in a talent pool he said is unsurpassed and an economic development strategy that tends first to the needs of state-based companies and Snyder said Michigan will create the best "value" for employers in the nation.
Democrats, however, say job growth since the 2009 trough is already outpacing many states and that there is no evidence a $1.6 billion business tax cut will lead to significant job creation. They point to the dozens of tax cuts of the 1990s that preceded the decade of job loss that followed.
"There are businesses that will benefit, no question," said Sen. Gretchen Whitmer of East Lansing, the Democratic leader in the Senate. "But the governor can't point to one study that says that that kind of an indiscriminate tax cut will create a job. If he could, he would."
Keeping his promises
Snyder came into office promising two things off the bat: Eliminating the Michigan Business Tax and writing a state budget that corrected the annual imbalance between revenues and spending. In doing both, he had to depart from Republican orthodoxy that far prefers budget reduction to tax increases when paying for tax cuts.
The result is significant, a $1.4 billion increase in income tax revenue from taxing pensions by varying degrees for those born after 1945, scrapping scheduled rate cuts and scaling back a variety of exemptions. It's an unprecedented shift in tax burden from the 100,000 companies that will no longer have to pay a state business tax to individuals.
Snyder said taxing business owners twice, once on their income and secondly through the MBT, was unfair and stifled job growth. Whether taxing pensions in the manner lawmakers approved is constitutional, however, awaits a ruling by the Michigan Supreme Court. Public employee retirees will argue it's not.
Also unpopular is a state budget that reduces base funding for K-12 schools by $470 per pupil, despite a $600 million surplus in a state aid fund constructed by voters through the Proposal A school-finance changes of 1994. The budget effectively takes $400 million of that surplus to help fund higher education.
Though his Democratic predecessor approved a similar, but temporary transfer, Snyder says education funding will be considered in a more comprehensive fashion to take in preschool through the first two years of college.
And even if school-aid revenue grows, local districts shouldn't count on automatic annual increases. Instead they will be rewarded for improved student performance and non-instructional cost cutting. Republican lawmakers taking heat back home may break from the governor on that, particularly as elections near next year, when pressure will grow to restore some of this year's cuts.
The House and Senate contain 90 members new to the chambers, run by large GOP majorities who came into office with the same pledge as Snyder: Improve the economy and fix a dysfunctional state government.
The difference is Snyder had detailed plans and top aides with decades of Capitol experience. They advised the new governor to act fast.
The Republican majorities he has relied upon, however, might not be there for other priorities, such as a 1-percent tax on health insurance claims to finance Medicaid health care or authorization for a new international bridge spanning the Detroit River.
For that he needs Democrats and Democrats aren't happy.
Unhappy Democrats
In his inaugural address and first State of the State speech, Snyder repeated a central theme of his campaign, that he would work in a non-partisan fashion.
Whitmer said she's had, at most, three meaningful conversations with the governor. She said Snyder's pledge of "bipartisanship, moving all of Michigan together and shared sacrifice" was just "rhetoric."
"I'm a big fan of Bill Milliken and when he endorsed him and I heard all of those opening speeches, I was hopeful," she said. "But it's been the same-old Republican, partisan top-down style."
If the votes on the floors of the Legislature have been partisan, however, many parts of the agenda are hardly bedrock GOP. Medicaid was largely preserved in the budget. While public employees are being asked for concessions, Democrats in other states have asked for more.
Last week's coordination of all state child care and development programs into one office within the Department of Education could make Michigan a national leader. This year's expected move to match the unemployed and underemployed with job openings in their fields is a variation on a program Granholm launched.
Detroit, Grand Rapids and Flint are critical to Michigan's economic future, Snyder says. And while he says state government isn't in the job-creation business, the state's economic development efforts are arguably more robust than they were before. Pure Michigan is now the state's unifying brand, funded with $25 million in annual advertising.
"We have tremendous asset potential, but we haven't done a great job of understanding what assets we have and optimizing them," Snyder says in the business lingo he has yet to shed in a job that requires messaging that resonates with his constituents.
Snyder's chief message is his certitude that his policies will put Michigan on the right track even if large majorities in polls still believe Michigan is headed in the wrong direction.
"I talk to lots of people and you get a lot of positive support from just average people who talk about how excited they are to see good things going on," Snyder said. "And I get a lot of people who say, 'I don't agree with everything you're doing, but I appreciate the fact that there's leadership now and we're moving forward.' "
"And then we get some people who just don't like it," he said, not sounding terribly concerned how broad that view might be.
Contact Peter Luke at (517) 487-8888 ext. 235 or e-mail him at pluke@boothmichigan.com.