Posted on
Thu, Aug 6, 2009 : 8:28 p.m.
CFO to Ann Arbor City Council: Significant budget cuts, service reductions needed to meet major shortfalls
By Ryan J. Stanton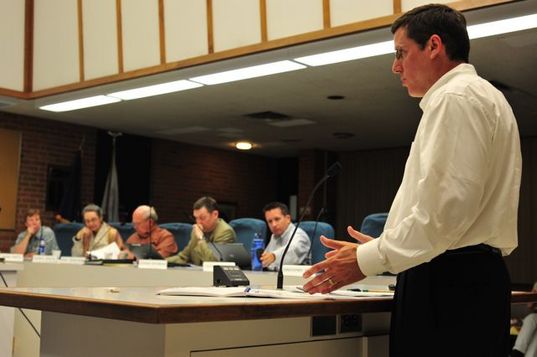 Ann Arbor's chief financial officer offered a grim outlook tonight, predicting the city faces a budget shortfall of several million dollars over the next two years.
"I believe we're in a new reality," Tom Crawford said, relaying that new revenue forecasts show city officials may have to confront a $2.4 million to $3.3 million deficit before the end of this fiscal year and a $4 million to $5.8 million deficit next fiscal year.
That equates to a 3- to 7-percent reduction in city spending and a potential loss of 24 to 70 full-time city employees, Crawford said.
City Administrator Roger Fraser said it's not yet guaranteed those cuts will happen, but council members could see spending cut requests soon if predictions hold true.
Crawford said one of the biggest challenges the city faces is that state sales tax receipts are down 8 percent this year, which could equate to $1 million to $1.9 million in lost state transfers to Ann Arbor this year, as well as up to $2.8 million in lost transfers next fiscal year.
In addition, the city is expecting other revenues to come up $1 million short this year due to stagnant investment incomes. Traffic citation revenues also are down $200,000 and new development review fees are down $200,000, Crawford said.
Mayor John Hieftje said Ann Arbor is not immune to the challenges that are affecting every city in the state, the nation's leader in unemployment rates. Unemployment rates as of June for the Ann Arbor area were 10.6 percent, compared to 15.2 percent statewide.
Hieftje said city officials have their work cut out, but he said they don't face the level of challenges that Washtenaw County officials face with a $30 million structural deficit. He said part of the challenge for Ann Arbor is that 40 percent of the property in the city limits is tax exempt, largely due to the University of Michigan.
"Anyone who lives in Michigan certainly understands we are in a financially challenged state," Hieftje said. "Things are changing rapidly all the time and one of the things that isn't changing is they aren't coming up with any solutions in Lansing."
Crawford noted that Ann Arbor will have made a 26-percent reduction in full-time employees between 2001 and 2011, going from 1,005 to 746 over the last decade, if the city continues according to plan. He said the city is maintaining reserves equal to slightly more than 10 percent of spending, so there is not much room to dig into rainy day funds to meet the challenges ahead.
"Council has very little flexibility for obtaining revenues," Crawford said, pointing out city officials' hands are tied when it comes to levying new taxes. He also pointed out the state previously removed the ability for local governments to have local entertainment or sales taxes.
City officials continue to evaluate the option of placing a city income tax proposal on the November ballot, potentially bringing in $7.6 million in additional revenue by the 2011 fiscal year. That's the net gain to the city after figuring the money to be gained from an income tax minus the loss of the city's 6.2-mill operating levy, which would be eliminated as per city charter.