Posted on
Mon, Mar 19, 2012 : 5:56 a.m.
Maple Road improvements among four road projects under consideration in Ann Arbor Township
By Lisa Allmendinger
Officials from Ann Arbor Township will consider a pair of joint projects on Maple Road with Scio Township when they meet with the Washtenaw County Road Commission Monday night.
The proposed joint projects would involve tree and roadside berm removal, shaping of the road and the addition of limestone from Stein Road to 400 feet south of Joy Road, then from Stein Road south to the pavement. The two projects total $147,500; Ann Arbor Township's portion would be $73,750.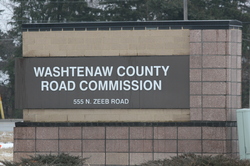 Lisa Allmendinger | AnnArbor.com
Also under consideration is roadside berm removal work on Warren Road from Earhart Road to Pontiac Trail at an estimated cost of $25,000.
The largest project up for discussion is on Newport Road between Maple Road and Rudolf Steiner. The estimated $62,200 project includes milling and overlay work.
The township has $1,422 less local road matching funds this year due to fewer uncurbed roads being under the jurisdiction of the Road Commission. There is $11,008 in matching funds to work with for its local roads and $3,833 in drainage matching funds. Last year, the township used all of its available matching funds for projects.
Ann Arbor Township spent about $49,000 on local road projects in 2011 and benefited from about $295,000 spent by the Road Commission. Among the major projects were crack sealing of Gleaner Hall Road from Joy Road to Warren Road and drainage work on Maple Road between Stein and 400 feet south of Joy Road.
As far as its primary roads go, the Road Commission spent about $543,000 on major projects including the crack and chip sealing of Dixboro Road from Geddes to Plymouth Road and the crack sealing of Pontiac Trail both north and south of Warren Road.
There are 16.31 miles of certified gravel roads in the township and in 2011, township officials opted to have two solid applications of duct control applied to them. One application costs about $5,970.
Officials will meet Monday at 7:30 p.m. at Township Hall, 3792 Pontiac Trail.
Lisa Allmendinger is a regional reporter for AnnArbor.com, who also covers the Washtenaw County Road Commission. She can be reached at lisaallmendinger@annarbor.com.