Posted on
Mon, Apr 23, 2012 : 11 a.m.
Governor Rick Snyder's visit to Kuwait a 'morale booster,' says Ypsilanti soldier
By Pete Cunningham
Governor Rick Snyder's trip overseas wasn't especially long, but it had an impact on the Michigan-based soldiers.
On April 18, Snyder met with the Michigan Army National Guard 14-62nd Transportation Company at Camp Arifjan in Kuwait, where the company is working on the withdrawal of military equipment from the area.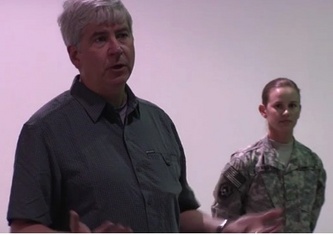 "Thank you for the opportunity to come talk to you because you're the people doing the hard work, serving our country; you're making sacrifices for your country, for your state," Snyder said.
Soldiers had an opportunity to ask Snyder questions. Second Lt. Nicole Furnish, of Ypsilanti, helped moderate the session and on a video of the event said most of the questions centered around what would be waiting for soldiers when they got home.
"Some of the issues that were addressed, we're more concerned about what's going on back home when we get home," Furnish said. "For example, jobs, education, giving us funding for education, and how we're going to find jobs when we get home."
After answering questions, Snyder met the soldiers and posed for individual photos.
"I think it's great for the soldiers to see that their governor cares enough to come through and see them all the way in Kuwiat," Furnish said. "It's a good morale booster."
Contact Pete Cunningham at petercunningham@annarbor.com or by phone at 734-623-2561. Follow him on Twitter @petcunningham.