Posted on
Sun, Apr 14, 2013 : 1:42 p.m.
Graffiti taggers vandalize 6 rail cars at Artrain site
By Sven Gustafson
Editor's note: This story has been updated to add comment from Midwest Entertrainment owner Larry Bear.
Police are looking for suspects after someone left extensive graffiti tags on six rail cars being stored at the Artrain rail yard on North Main Street in Ann Arbor, causing what the nonprofit's director estimates may be $60,000 worth of damage.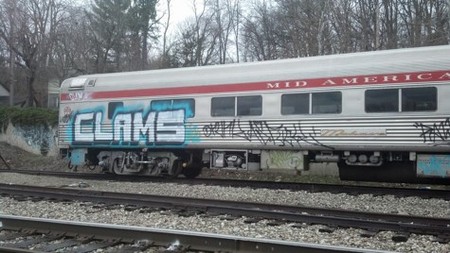 Photos courtesy of Artrain
The incident is believed to have taken place some time between 1:30 and 10 a.m. Saturday — the times when the last Artrain staffers and another worker who works near the tracks left for the day and when the vandalism was discovered, Artrain President and CEO
Debra Polich
said.
The railcars are owned by Greenwood, Ind.-based Mid America Railcar Leasing LLC and were brought to the Artrain site March 17, Polich said. They're being used by Midwest Entertrainment, a company with an address in Hillsdale that has been marketing weekend trips to and from Chicago from Ann Arbor; the first trip is scheduled for April 26-28, according to its website.
Photos shows the rail cars vandalized with the tags "Clams," "Raw" and others that are difficult to decipher. The vandals tagged all six of the rail cars, mostly on the side facing the Huron River. Polich said she also saw similar tags on a billboard along North Main Street near Depot Street.
"Whoever was doing this was on a mission," Polich said.
Ann Arbor police said only that there are no suspects and that they are investigating whether the tagging might be related to other tagging going on downtown. A lieutenant is spearheading the investigation.
Midwest Entertrainment owner Larry Beard said he plans to have the rail cars cleaned up in time for the company's first-ever round trip to Chicago later this month.
"it's just unfortunate that it occurred because it takes away form the type of atmosphere that we're trying to put forward with the train, which is a class act," he said.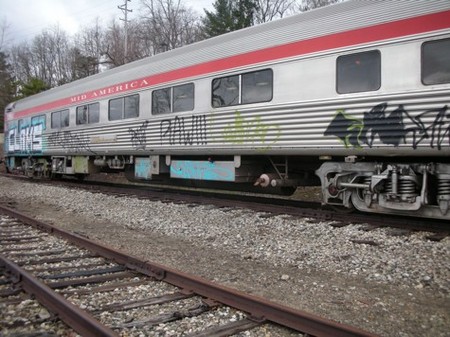 While the repair estimates won't be available until later this week, Polich said she believes cleaning might cost as much as $10,000 per rail car. Polich said Artrain's own rail cars have periodically been vandalized with graffiti since they began keeping them on the site more than two decades ago.
"My memory says maybe a half a dozen times over that time," she said. "And generally it would cost around $2,500 (per car) to have our stainless steel cars cleaned with much less damage than these. Plus, they got windows … They're tagged underneath, many of the equipment boxes are tagged, what are known as the trucks. I mean, it's expensive."
Polich said the rail cars are insured. Ben Butterworth, owner of Mid America Railcar Leasing, called the situation unfortunate but not uncommon.
Artrain is a nonprofit arts organization founded in 1971 that delivers art exhibitions and cultural programming to underserved communities via rail.
Anyone with information should call Ann Arbor Police Department at (734) 794-6920.