Posted on
Sat, Jul 21, 2012 : 5:50 p.m.
Great weather, big crowds combine for superb ending to 53rd Ann Arbor Art Fair
By Lisa Carolin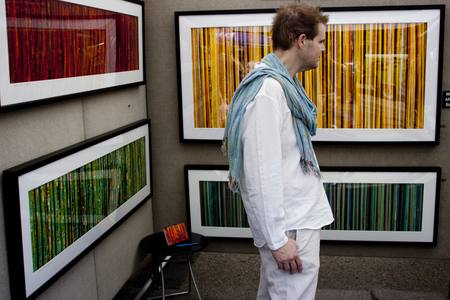 Jeffrey Smith | AnnArbor.com
The 53rd Ann Arbor Art Fair finished with big crowds and what appeared to be numerous sales. There's no underestimating the importance that the weather plays in attendance and sales, and after what some are calling a slow start, these last two days have offered great weather and big crowds.
"The crowds were just a little smaller at the start of the Art Fair because of the rain, although people who did come out were serious," said Maggie Ladd, director of the South University Art Fair, as the event wound down on Saturday. "Yesterday and today have been gangbusters. We had collectors in the area including one who bought 20 pieces from one artist and gave a dozen commissions to another artist."
"I couldn't be happier," said Maureen Riley, director of the Street Art Fair, the original of the four fairs that together make up the overall event. "The weather has been beautiful, lots of people have come out, lots of sales are being made, and our artists are happy. I think beyond a doubt there are more people this year than last year."
Many vendors were also benefiting from the good weather and crowds.
"The Art Fair has gone well this year because the weather was so nice and more people came out," said Elaine Unzicker, owner of Unzicker Design, which sells scarves, vests and one-of-a-kind dresses. "This is our third year, and more people are buying this year instead of just looking."
Mary Ennes Davis said her booth, Guardians, was busy every day.
"We sell jewelry, sculpture and collages and are having a very good show," she said.
It was a good year but not a great year for glass artist Mark Sudduth.
"A lot of artists have had a slower show, including me," said Sudduth, a glass artist whose work is all hand blown and hand formed. "I have repeat customers coming in and buying, but big pieces are not selling well in Ann Arbor compared to other locations. Since the economy slowed, people are cautious."
State Street Area Art Fair director Kathy Krick agreed.
"Higher-end pieces still haven't come back," she said, "but a lot of people came this year and everyone seems to be walking around with packages. The weather has been phenomenal, and that gives people a chance to walk and stop and buy, and merchants have had a good year because people can sit outside."
The Castle family from Dexter came to the Art Fair to enjoy the ambience and because it's free to walk around and enjoy the art and entertainment.
"It's like going to a really big art museum," said Julie Castle. "I really like to look at the art for decorating ideas."
Her 9-year-old daughter, Angela, said she had a good time, "but I didn't expect to see naked people pictures!"
"Being at the Art Fair was a really positive experience because the weather was nice, parking wasn't bad, and it's been a lot of fun," said Heidi Benson of Ann Arbor. "The artists are very friendly."
The Ann Arbor Art Fair averages an estimated 500,000 attendance in a typical year, and Summer Art Fair Director Debra "Max" Clayton said the streets were wall-to-wall people Friday and Saturday.
"People have embraced the weather and the opportunity to come to Ann Arbor," said Clayton. "There is a happy vibe on the street, and people are coming and staying for hours carrying packages of artwork and from retailers, and restaurants have been jammed at lunch time."
"The Ann Arbor Art Fair is a perfect marriage of an event and a location. That's what sets this fair apart and has made it a success for 53 years."