Posted on
Fri, Jun 8, 2012 : 10:13 p.m.
Green Fair in downtown Ann Arbor showcases environmentally conscious lifestyle
By Amy Biolchini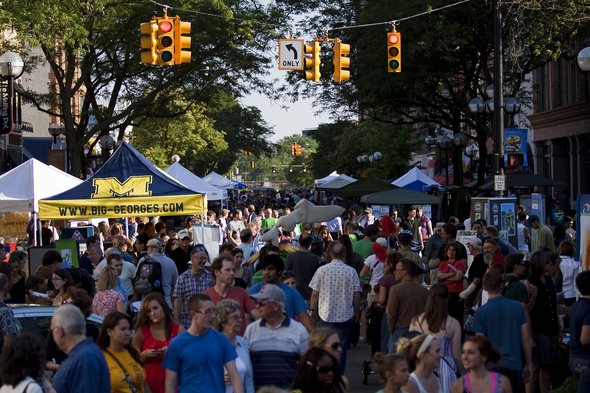 Jeffrey Smith | AnnArbor.com
For a Friday night in downtown
Ann Arbor
, the activity on Main Street was decibels below its usual bustle.
Instead of traffic choking the street, bikes, solar panels and natural areas took center stage.
People browsed displays of products, companies and non-profit organizations all dedicated to leading a more sustainable lifestyle.
Still, the 12th annual Mayor's Green Fair, which stretched along Main Street from Huron to East William streets, wasn't just tree huggers flocking to the streets.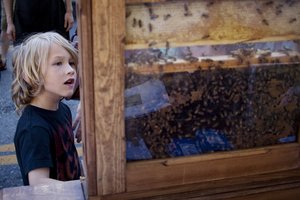 Jeffrey Smith | AnnArbor.com
Passers-by on their way to and from dinner stopped to ponder a greener way of living and learn about local opportunities to get involved in preserving and protecting natural areas.
The presentations sparked conversations — whether about recycling batteries or about the light bulb of the future, said to last for 20 years.
People hopped on different bicycles to try them out, from reclining models to Tom Bartlett's signature conference bike, which seats 7 people.
Electric cars, from future models to relics of the past, were on display for people to interact with.
City and county transportation representatives were also present to survey people about how they commute to and from their jobs, and what they want to see Washtenaw County do in the future in terms of transportation options.
George Lambrides and his wife Cindy, both of Dexter, were in Ann Arbor for dinner Friday night and stopped by the Green Fair.
Neither would call themselves die-hard environmentalists, but the couple said their attitude toward the way they live has changed as they've grown older. The Lambrides' home is heated using geothermal energy.
"I'm more concerned about my grandkids, 15 to 20 years from now," George Lambrides said.
When it comes to buying electric cars or eliminating dependence on coal for energy, George Lambrides said at this point the impact may be negligible at an individual level, but he added that there's no other way to go.
"The more people we have pulling on the oars, the greater chance there is for change," George Lambrides said.
Amy Biolchini covers Washtenaw County, health and environmental issues for AnnArbor.com. Reach her at (734) 623-2552, amybiolchini@annarbor.com or on Twitter.