Posted on
Wed, Nov 30, 2011 : 1:35 p.m.
Greg O'Dell says leaving U-M police to return to EMU strictly a personal decision
By Kyle Feldscher
Previous story: New U-M police chief will return to head EMU's public safety department - for less pay
When the opportunity to return to a job and university that he loved arose, Greg O'Dell said he simply couldn't refuse the chance.
Eastern Michigan University announced O'Dell was returning to the EMU Department of Public Safety as its chief of police Wednesday after a few months holding the same position with the University of Michigan Department of Public Safety.
In an interview with AnnArbor.com, O'Dell said he couldn't turn down the unique opportunity to return to the job he originally began in February 2008.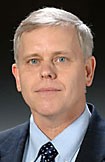 "The complete driving force in making this decision is I just really had an opportunity to return to a job that I loved," O'Dell said. "There wasn't any bad thing about Michigan, I really loved it. I've had a career now where I've worked in four different police agencies and I've loved every agency I've been with.
"Given where I'm at in my career, I think returning to Eastern is the best decision for me to make at this point."
O'Dell was appointed to become the new police chief at the U-M Department of Public Safety during the summer, replacing Ken Magee who had resigned from the department in November 2010 after a 12-month sick leave. O'Dell spent three-and-a-half years at EMU following a lengthy tenure with the Ann Arbor Police Department.
The second stint as EMU's police chief will pay O'Dell about $50,000 less than he earned as police chief position at Michigan — and about $20,000 less than he earned in his first tenure at Eastern Michigan.
However, O'Dell, said working in law enforcement has never been about the money.
He said he understood many people might not understand why he would leave a job that paid him tens of thousands of dollars more per year, but it made sense to him. The money the university is saving on paying him could ultimately go to other members of EMU's Public Safety Department, O'Dell said.
"I feel I'm very well compensated at the current salary rate and one of the things I talked to President (Susan) Martin about in conversation about the reduced salary was being able to hopefully enhance some of the other members of the department's salary (with the extra money)," he said.
When speaking with AnnArbor.com on Wednesday, O'Dell emphasized several times that he had nothing but positive things to say about his time at the University of Michigan.
O'Dell said the only job he would have left Eastern Michigan for was the police chief position at Michigan, but, during his time in Ann Arbor, he found himself speaking consistently about things he had done at EMU.
After a few months, O'Dell said he realized he had so much invested in Eastern Michigan University.
"I don't think I can stress enough there's not a downside to Michigan," he said. "I can't sit here and tell you any bad things about the Michigan position."
Where the U-M Department of Public Safety will go from this point isn't clear, according to university spokesperson Rick Fitzgerald.
Deputy Police Chief Joe Piersante was appointed interim police chief on Wednesday and the university is considering how to conduct its search for the next permanent police chief, Fitzgerald said.
"We haven't even gotten to that point yet," Fitzgerald said. "This literally just came together pretty quickly."
In the meantime, O'Dell is hoping the attention on him after this announcement fades away relatively quickly and goes back to the people doing the day-to-day police work.
"I hate to be a distraction like this," he said. "I want people to concentrate on the work the agencies are doing (providing) police work and safety for their communities."
Kyle Feldscher covers cops and courts for AnnArbor.com. He can be reached at kylefeldscher@annarbor.com or you can follow him on Twitter.