Posted on
Fri, Oct 5, 2012 : 10:30 p.m.
Role-model senior with Down syndrome wins Pioneer homecoming king title
By Danielle Arndt
It was a special moment in Pioneer High School history when Nick Lupu's name was announced during the 2012 homecoming assembly Friday afternoon.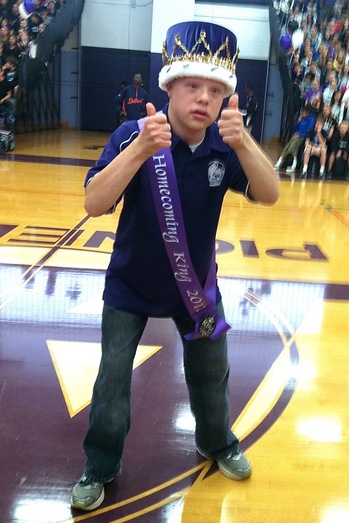 Courtesy photo
Lupu, who was named homecoming king Friday, is a gregarious senior who is loved by all, his teachers said.
He also has Down syndrome
"They called his name, and the place just erupted," said special education teacher Ken Schuman. "He had just this huge smile. He threw his hands up, pumping the air and dancing. Everybody was just hugging him left and right…"
Schuman, who is in his first year teaching at Pioneer, in Ann Arbor said having Lupu in his class and getting to know the outgoing senior has been one of the greatest joys of his teaching career.
"(Nick) has such a positive energy."
And to see Lupu be elected homecoming king? Well, that moved Schuman to near speechlessness.
"To witness such unconditional acceptance… (It was) phenomenal."
Being elected homecoming king is typically a popularity contest, and Lupu definitely is very well known and well liked at PHS, Schuman said. But Schuman acknowledged that sometimes special education students are ostracized from the student body and rarely are recognized for their strengths.
"It really speaks to the super neat kid that Nick is," Schuman said. "Nick just lights up everybody's life."
Courtesy photo
Cassandra Brower
, the special education teacher at Pioneer High School who nominated Nick for homecoming court, couldn't agree more.
"I may have put his name in that hat, but Nick did this on his own," she said. "He's a very warm, friendly person. Very lovable. Always waves in the hallway."
Lupu also loves sports and school spirit, his friends and teachers said. Since his freshman year, Lupu has volunteered as a student ambassador, which gets him out to all of the football and basketball games.
As a student ambassador, Lupu helps out the referees, bringing them drinks and supplies throughout the games.
"A lot of students got to know him that way," Brower said.
Senior Tevis Robinson was one of them. Robinson met Lupu on the football field during his first football game as a freshman.
"He was always there cheering us on. He'd be carrying stuff and set it down to just yell and clap," Robinson said. "He's a real cool kid."
Robinson said he was pleased when Lupu's name was announced for homecoming king.
"I was real excited cause even though I technically was supposed to vote for myself cause I was on court, I voted for Nick because I actually thought he deserved it," Robinson said. "He's a role model for the school. ... You never see him down in the dumps. He always has a smile on his face and is greeting everybody he meets."
Brower is proud not only of Lupu, but of all of Pioneer's students.
She said this recent group of kids is very receptive and energetic about doing things to include special education students. She said the high school launched a unified bowling team last year and students have been actively volunteering to help with the winter Special Olympics.
"I have an ongoing list usually of 40 to 50 students trying to do different activities with my special education class," she said. "It's heartwarming."
Sam Zwolan was elected Pioneer's 2013 homecoming queen. Zwolan plays on the girls lacrosse team.
The other representatives on homecoming court were:
Keaira Banks
Billy Gulley
Cameron Evans
Colin Darnton
Maddie Polovick
Cole Taylor
Abby Raver
Josh Kaplan
Sloane Supica
Tevis Robinson
Molly Thompson
Ethan Spencer

King runner-up: Chad Reed
Queen runner-up: Jassadi Moore
Danielle Arndt covers K-12 education for AnnArbor.com. Follow her on Twitter @DanielleArndt or email her at daniellearndt@annarbor.com.