Posted on
Thu, Mar 24, 2011 : 4:06 p.m.
Ground collapses outside of downtown Ann Arbor parking structure site in latest project mishap
By Juliana Keeping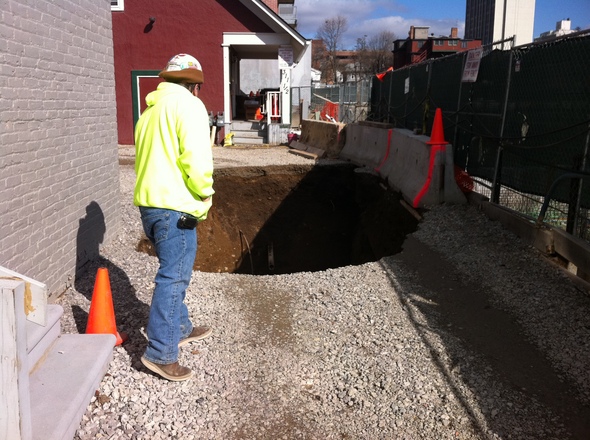 Courtesy of Ali Ramlawi
The ground collapsed outside the gates surrounding construction of the downtown underground parking structure in Ann Arbor around 3:30 p.m. today.
A sink hole could be seen behind the Earthen Jar restaurant, 311 S. Fifth Ave., in a parking lot adjacent to the construction site, following a breach in an earth retention wall.
A worker on her cell phone asked for a head count, but another worker at the site said no one was injured. The space excavated for the parking structure is four stories deep.
"There shouldn't be anyone down there; it's not stable," one worker said.
Workers declined to answer questions about the incident or provide their names.
Sim Sethi, whose family owns Earthen Jar, said workers evacuated the restaurant around 3:30 p.m. Jerusalem Garden, located next door at 307 S. Fifth Ave., also was evacuated.
Ali Ramlawi, who owns Jerusalem Garden, said he was shaken and angry. Workers at both restaurants use the parking lot where the ground caved in. They stand and park on the spot that collapsed, Ramlawi said.
"One of us could have been dead today — that's why I'm angry, and it could have been any of us," he said.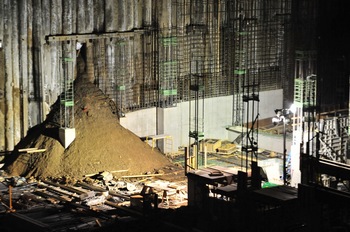 Ryan J. Stanton | AnnArbor.com
A note on the door said Jerusalem Garden was closed for the day Thursday, and orange construction barrels and a make-shift fence blocked access to Earthen Jar following the ground collapse.
Construction on the 700-space underground parking lot on South Fifth Avenue began 13 months ago. In a recent story, owners of the two restaurants talked about how their business was suffering during the construction.

The $50 million parking structure is a project of the Ann Arbor Downtown Development Authority. DDA Executive Director Susan Pollay called today's incident a "serious occurrence," saying a small section of the retaining wall broke. She said there were no injuries.
''The event may have been caused by a large sink hole that developed behind the wall in the parking lot of the house that is located interior to the block behind Earthen Jar," Pollay said in an email. "We consider this to be a serious occurrence and we understand that Christman is following all appropriate construction protocol to deal with this. Their first efforts are being directed to human safety, and as a preventative measure Earthen Jar and Jerusalem Garden were evacuated; the small house nearest to the sink hole is already vacant."
Pollay added she's confident in Christman Co., the construction manager, and its response to this situation. She said the DDA's structural engineers will be on site to provide an independent assessment of the situation.
Today's incident is one of several accidents or mishaps that have occurred during the project. There was a similar scare in the fall, when a breach in the southern earth retention wall created a sinkhole effect next to the Ann Arbor District Library.
Sand began funneling through the wall, which sunk a few bike hoops and a portion of the concrete sidewalk along the northern edge of the library property. No one was reported hurt in the incident.
Earlier this week, another incident occurred where emergency workers had to use a crane to hoist a boy out of 6-foot deep hole he fell in near the construction site. The boy was walking with his father when he stepped on a soft spot in the soil and fell in the hole.
Firefighters and police responded after someone called 911. The boy was given a harness that he attached to himself and was pulled out. He was in the hole for about 10 minutes.
Earlier this month, two workers from a steel company working on the project were taken to the hospital following another accident on site. The men were working on a metal rebar wall — used to reinforce concrete— when it started to fall shortly before 9 a.m. and "they rode it down about 30 feet," said Joyce Williams, Huron Valley Ambulance public affairs manager.
This story has been updated with additional details and interviews.
AnnArbor.com government reporter Ryan J. Stanton contributed to this story. Juliana Keeping covers general assignment and health and the environment for AnnArbor.com. Reach her at julianakeeping@annarbor.com or 734-623-2528. Follow Juliana Keeping on Twitter.