Posted on
Wed, Mar 20, 2013 : 4:42 p.m.
Groundhog apology: Howell Nature Center says its woodchuck is sorry for predicting an early spring
By Cindy Heflin
Remember back on Feb. 2 when the groundhog promised us an early spring?
It turned out to be a very bad forecast, and for that, a little woodchuck in Livingston County is apologizing.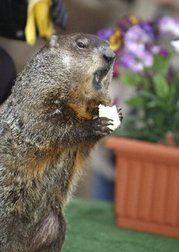 File photo
Woody is the resident groundhog forecaster at the Howell Nature Center. As Michigan residents endured temperatures in the 20s, scattered snow and windy conditions, the center issued this statement Wednesday, the first day of spring: "Like all female woodchuck prognosticators, Woody is not afraid to admit when she's wrong,"
Woody might take comfort in the fact that her more-famous counterpart, Punxsutawney Phil, also got the forecast wrong. But apparently, she's so down about the whole thing that she's grown timid about predicting anything.
"Although she correctly picked the Baltimore Ravens to win the Super Bowl, she is avoiding March Madness in its entirety," the center said.
But lest anyone think Woody has no powers of prognostication, the nature center pointed to a list of her past predictions. Including this year, she's only been wrong four times since 1998.
See a video of Woody making her prediction below: