Posted on
Tue, Feb 26, 2013 : 4:14 p.m.
Group supports moratorium on downtown development in letter to Ann Arbor City Council
By Ryan J. Stanton
A unified group of residents and community activists representing eight different neighborhood organizations sent a letter to Mayor John Hieftje and the Ann Arbor City Council on Tuesday, lobbying for passage of a temporary moratorium on new downtown development.
The letter comes exactly one week after the council postponed consideration of a resolution proposed by Council Member Sabra Briere, D-1st Ward, and co-sponsored by Stephen Kunselman, D-3rd Ward. The resolution would pause new site plan approvals — including one for a controversial, 14-story high-rise at 413 E. Huron — while the city re-evaluates its downtown zoning.
The six-month moratorium has been the subject of legal threats. Attorneys representing the property owner and the developer behind the 413 E. Huron project call the moratorium a thinly veiled attempt to put a roadblock in the way of their clients' project just as it was to come before council.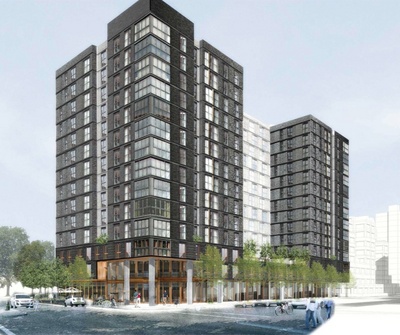 Humphreys & Partners Architects
Briere said she has made no revisions to her resolution since last week. It will be back on the agenda on March 4 and anything can happen after that.
Here's the letter the 16 residents sent to council on Tuesday:
Mr. Mayor and Members of City Council:
We represent the eight downtown and near-downtown neighborhood organizations and associations. We are contacting you on behalf of our constituents, who by a large margin support the proposed moratorium sponsored by Councilmembers Briere and Kunselman. We urge you to support the moratorium AS PRESENTED, without any amendments or any exclusion.
Three years ago many of us voiced our concerns over certain provisions in the final draft of the A2D2 Zoning and Design Guidelines. At that time, council acknowledged the documents may not be ideal and promised in writing to the community that after a year both would be revisited.
As "The Varsity" project was topped off over the past few months, the community realized the concerns we presented to council at the time of the adoption of the regulations were valid. One only has to walk the site of that project to see the dramatically negative impact that a building of that size and mass has had on the historic Baptist Church and adjacent historic low-scale properties.
We urge you to walk that site, if you have not done so, and see first-hand how these treasured historic structures have been harmed. Witnessing that project's build-out has made our constituents more sensitive to any development that may be adjacent to other historic properties, and caused all to call for the promised review of the zoning and design guidelines.
The need for the promised review was reinforced when a proposal came forward for 413 E. Huron that would be 50% larger than the troubling Varsity project, and also be adjacent to historic properties. The review was promised to the citizens of this community long before that project was proposed. The promised review will encompass all D1/D2 areas, and not be limited to one project or parcel. The 413 parcels and proposed project is so massive, and on such a key piece of property, that to exempt it from the review process will impair the ability of council to affect the character of downtown.
No one can contend that a review of the zoning comes as a surprise, when the dialog that codified it included statements that it would be revisited after a year. Municipal land use attorneys have told us that Michigan law provides no vested development rights attached to a parcel one may purchase, until construction of a structure's foundation has begun. Anyone buying property in D1/D2 areas should have anticipated the possibility that the zoning might be changed, as council's promised review had yet to commence. No developer should be exempt from the moratorium based on a failure to discover that an official review of the zoning code was overdue.
If the project that precipitated these current concerns is not included in the moratorium, then the full efficacy of the moratorium is called into question. We feel all D1 parcels abutting or adjacent to historic properties should be included to fulfill the purpose of the moratorium.
Legal zoning experts have told us that it would be a very high bar for a party to convince a judge that the city is acting in bad faith by enacting a short-term moratorium while council reviewed the whole of D1/D2 zoning and design guidelines, as the city has previously stated to the community in writing.
Council has an obligation to bring the city's zoning ordinance into compliance with its planning documents. Although there is limited legal risk to the city in acting on the right and need to revise the zoning ordinance to bring it into compliance, we recognize there may be some financial risk from being challenged by various parties for any action taken or not taken. The bottom line, however, is that council needs to decide to do what is right, and act in good faith with respect to the promise made to the community. We feel that protecting the character of the downtown is paramount in this process, and all sites adjacent to historic properties must be included in this review.
Christine Brummer, Norm Tyler, Ellen Ramsburgh, Doug Kelbaugh, Christine Crockett, Ann Schriber, Susan Wineberg, Peter Nagourney, Ray Detter, Hugh Sonk, Ethel Potts, Ilene Tyler, Tom Whitaker, Betsy Price, Alice Ralph, Jeff Crockett.
Ryan J. Stanton covers government and politics for AnnArbor.com. Reach him at ryanstanton@annarbor.com or 734-623-2529. You also can follow him on Twitter or subscribe to AnnArbor.com's email newsletters.