Posted on
Sat, Jul 17, 2010 : 9:04 a.m.
Gubernatorial hopeful Rick Snyder of Ann Arbor releases tax returns
By AnnArbor.com Staff
Republican gubernatorial candidate Rick Snyder's 2007 and 2008 tax returns show he took in more than $1 million each year while giving hundreds of thousands of dollars to charity.
He's the fourth candidate out of the five Republicans running for governor to release financial information. Attorney General Mike Cox and state Sen. Tom George have posted extensive information about their taxes and holdings on their websites, and U.S. Rep. Pete Hoekstra is required by federal law to disclose his holdings.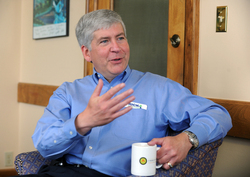 Oakland County Sheriff Mike Bouchard has not released his tax returns, but has disclosed his investments and income.
Snyder, an Ann Arbor venture capitalist, released only his form 1040 and itemized deductions. Additional filings could reveal proprietary information for businesses in which he invested so weren't made public, a campaign spokesman said Friday.
Snyder is the former president and COO of computer maker Gateway Inc. and has run two venture capital firms in Ann Arbor that have invested $200 million during the past 13 years.
His 2007 federal return shows that he and his wife, Sue, had more than $307,000 in wages, nearly $216,000 in interest income, over $200,000 in dividends, business income of $245,000 and $1.4 million in capital gains. They also showed $1 million in losses and an adjusted gross income of $1.3 million, on which they paid taxes of $323,036.
Sue Snyder is an active volunteer but isn't paid for her work.
The couple's adjusted gross income dropped by about $200,000 in 2008. A campaign spokesman says Snyder's 2009 return won't be finished until some of the companies in which he has invested file their own returns.
Many groups got sizable donations from the Snyders, who had charitable contributions of $197,000 in 2007 and $831,000 in 2008. The University of Michigan, Rick Snyder's alma mater, received more than $600,000 from the couple in 2008.
Snyder also listed the companies in which he has financial holdings, although he didn't disclose how much he has invested. The campaign noted Snyder's diversified publicly traded stock portfolio is professionally managed and if he were elected governor, would be managed in a blind fashion to prevent any conflicts of interest.
A spokesman for Cox, who has posted tax returns from 2006-2009, urged Snyder to disclose more information.
"Snyder should join Mike Cox and also disclose his 2006 returns along with the dollar amount of each of his investments and holdings to let the sun truly shine in on his personal finances," spokesman Nick DeLeeuw said.
Snyder campaign spokesman Jake Suski said Snyder was providing voters with plenty of information.
"Rick has gone above and beyond what is required of a private citizen by releasing his tax returns. Unlike his opponents who are on the public payroll, Rick has made a successful career growing businesses and creating jobs," Suski said in a statement.