Posted on
Wed, Feb 16, 2011 : 5:59 a.m.
H1N1 flu virus 'alive and well' in Washtenaw County, public health officials say
By Juliana Keeping
University of Michigan student Frederick Dunbar isn't just happy to be out of the hospital after a two-week stay due to the swine flu — he's happy he's alive.
Dunbar, 25, said Tuesday a bad case of the H1N1 virus left him almost completely incapacitated in an intensive care unit at the U-M Hospital.
The flu has hit its stride in Washtenaw County, said Laura Bauman, epidemiologist for the Washtenaw County Public Health Department.
Dunbar is among 34 individuals who have been hospitalized since flu season began Oct. 1 — all except one of those hospitalizations have occurred since Jan. 1. Dunbar said he was admitted to the hospital Jan. 30.
The highest week for flu hospitalizations for the county occurred between Feb. 6 and 12, with eight individuals treated, Bauman said. Overall, there have been 200 confirmed cases. Those have not been broken down by strain.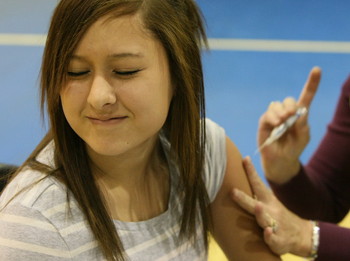 File photo
But H1N1, a strain of influenza A that first appeared in 2009, is still circulating. Strains of influenza A and influenza B also have been identified.
The cases involving hospitalizations are tied to all three of those strains.
"H1N1 is alive and well in Washtenaw County," Bauman said.
Dunbar, 25, said the illness overtook him in a matter of days.
He visited the hospital Jan. 30 after feeling increasingly ill and short of breath for a few days. Doctors kept him there. The normally healthy college student was soon diagnosed with pneumonia and a staph infection on top of H1N1, he said.
Dunbar spent 12 days in intensive care and had to be on a ventilator to breathe, he said. His right lung filled with fluid, which doctors drained, and he took nourishment through a feeding tube. He lost 30 pounds while in the hospital, he said.
Dunbar said he wanted to share his story so others didn't have to experience what his fiancé, Chanel Raeford, called "terrifying."
"He went from not feeling good to taking a day off of school, in span of four days, to being on a ventilator and fighting for his life," she said.
Dunbar said his illness caused him to withdraw from his U-M engineering classes to recover, and still feels weak.
Bauman said the circulating strains of flu are disproportionately impacting younger people. Of the 34 cases requiring hospitalizations locally, only 3 percent have involved those 65 or older. Like Dunbar, most are between 18 and 49.
"From what we learned last year from H1N1, it does not affect the elderly as much as it does younger people," she said.
The most severe cases of flu are coming from Ypsilanti, she said. Ypsilanti cases account for 54 percent of hospitalizations so far. The 2009-2010 flu season also impacted Ypsilanti residents disproportionately. The health department isn't sure why.
But those who have been hospitalized this year have typically had an underlying medical issue, like chronic lung conditions such as asthma. Other conditions that make a case of the flu more severe include kidney disorders, obesity and being on drugs that suppress one's immune system.
Washtenaw County school districts are reporting an increased number of respiratory illnesses, Bauman said.
Saline and Ann Arbor school officials reported nothing unusual for this time of year, but an Ypsilanti official noted a spike in flu-related illnesses.
Scott Graden, superintendent of Saline Area Schools, said daily rates of absence between 7 percent and 9 percent are typical for flu season in the 5,350-student district.
Ann Arbor Public Schools spokeswoman Liz Margolis said she hasn't received reports of an unusual volume of absences at any of the 33 schools in the 16,500-student district.
Ypsilanti Public Schools spokeswoman Emma Jackson said influenza is circulating in the 3,800-student district.
"We have seen an unusually high increase in absences — students and staff," Jackson said via e-mail. "Not all are flu-related, but we are hearing reports of a significant number of illnesses due to influenza."
Dunbar said he's never gotten a flu vaccination before. But he will from now on.
New in 2010, the CDC recommended everyone 6 months and older get a flu vaccine as it becomes available, a more comprehensive recommendation than in years past, health department officials said.
The 2010-2011 shot covers three types of influenza predicted by the World Health Organization as most at risk of showing up in the flu season mix. The latest shot covers the H3N2 virus, an influenza B virus, and the 2009 H1N1 virus. The mix changes every year.
Where to get the flu shot:
Flu vaccines are available from area pharmacies, local health care providers and at Washtenaw County Public Health. Appointments at the public health department can be scheduled by calling (734) 544-6700. Google's flu vaccine finder is available at www.google.com/flushot.