Habitat for Humanity considering renovating home that is 'rotting from the inside-out'
Posted on Sat, Aug 18, 2012 : 5:58 a.m.
Ypsilanti Township is preparing to take on a house officials say is rotting from the inside-out.
But unlike many of the more serious cases the Township's Office of Community Standards deals with, this home could see a relatively quick happy ending.
The house is deteriorating and mold-infested on the inside, but recently Habitat For Humanity representatives walked through it with the owner and township officials, and they are considering trying to make repairs.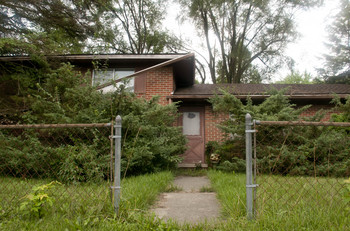 Tom Perkins | For AnnArbor.com
The house, which is at 1095 Jones St., is located across from the former Chapelle Elementary School and is in what officials say is a good neighborhood. The exterior is in relatively good shape, officials said, but the roof was leaking water badly and in need of repair seven years ago.
Ron Fulton, director of the office of community standards, said the homeowner put on a new roof but didn't remediate water damage inside the home.
No one was living in the home, and the conditions led to significant mold growth and a deterioration of the walls, floor and ceiling. The interior looks like it simply has melted and is collapsing in some spots.
"It just began rotting from the inside-out," Fulton said. "Who knows how long the rain was pouring in there."
Among other issues, the township is asking that broken water supply lines and fallen drywall be replaced, as well as mechanical devices and the furnace duct be sanitized or replaced.
There still is an outstanding mortgage on the home and the bank and the owner have been served notices of violation. The owner can't afford the repairs or the mortgage, Fulton said.
He said he is hopeful that is where Habitat can step in, but there is a question as to whether or not the bank will work with them.
"Habitat looked at it and they know their limitations, but they can bring it back so they're interested," he said. "Whether the bank would ever quick claim it to Habitat, we don't know."