Posted on
Fri, Apr 20, 2012 : 1:20 p.m.
Habitat For Humanity expands to help homeowners with house repair
By Janet Miller
Habitat for Humanity of Huron Valley has been building houses in Washtenaw County for 22 years. Now, they will also be fixing them.
The local Habitat organization, responsible for paving the road to home ownership for nearly 115 families, is launching a Neighborhood Revitalization Initiative, where volunteers will come together to work on houses in need of critical repair. The first year will focus on roof repair, said Sarah Stanton, executive director. The new initiative will be announced at Habitat's annual fundraiser Friday night at Washtenaw Community College.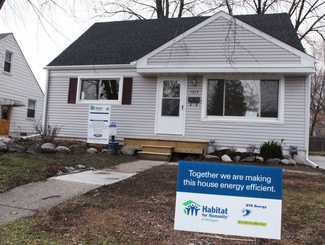 Jeff Sainlar | AnnArbor.com
The home repair effort will be in addition to Habitat's goal to bring another 15 houses on line during the 2012-13 fiscal year, which begins July 1, Stanton said. "There's no way we're stopping the home ownership program," said
Maggie Porter
, development director. "That's still our No. 1 priority."
The new neighborhood revitalization program is meant to help low-income homeowners facing critical home repair - from leaking roofs to faulty plumbing - who cannot afford the work on their own. "This isn't about people who need new curtains on their windows," Stanton said. "It's about fixing damaged roofs or toilets that haven't worked in two years."
Stanton said she hopes to work on at least 10 houses in the next year. Like the home ownership program, participants must meet income guidelines and they will pay back the no-interest loan over time. Under a pilot program last summer, Habitat replaced the roof of an Ypsilanti Township house, a $4,000 project. The owners pay $50 a month to repay the loan. "This is not a give-away program," Porter said.
And like the home ownership program, a combination of volunteers and paid professionals will work on the repairs, Stanton said. For now, most of the repair efforts will be in the Nancy Park neighborhood in Ypsilanti Township, where most of Habitat's home ownership efforts have been centered in the past few years,
Since 2008 and the collapse of the housing market, Habitat has been renovating foreclosed houses rather than building new ones. Until the crash, it was too expensive to buy and remodel existing homes. But the housing collapse has made it less expensive to buy and renovate foreclosed houses, more than doubling the number of houses Habitat is able to complete each year.
By rescuing and the renovating foreclosed houses along with the new effort for home repair focused on the Nancy Park area, Habitat will be able to impact an entire neighborhood, Stanton said. "It makes sense to be doing this when you look at our structure: We have an army of volunteers and now we have expertise in renovations and repair. And we are already engaged in that neighborhood."
Habitat needs to raise between $50,000 and $75,000 to fund the new initiative, Stanton said. The Neighborhood Revitalization Initiative is being promoted by the international Habitat for Humanity.
The shift to renovating houses rather than new construction has cut down on the time it takes to complete a house, Porter said. Because of this, the 300 hours of "sweat equity" required of each homeowner has been reduced to 200 hours for each member of the family older than 18.