Posted on
Fri, May 31, 2013 : 2:45 p.m.
Hackers unite: Ann Arbor joining dozens of cities in celebrating National Day of Civic Hacking
By Ryan J. Stanton
Ann Arbor is among dozens of cities across the country gearing up to celebrate the first National Day of Civic Hacking, a call to action for those who proudly call themselves hackers.
No, these hackers won't be trying to circumvent computer security systems to unleash catastrophe or crash financial markets. Rather, using publicly available data sets, they'll be working collaboratively to develop new applications that help improve society in some way.
"We're actively getting cooperation from city hall and the county, so the fond hope is that no one gets unpleasantly surprised by the results," said co-organizer Ed Vielmetti.
The A2 Hack for Change is scheduled to last from 9 a.m. to 6 p.m. Saturday and from 9 a.m. to 5 p.m. Sunday.
Ryan J. Stanton | AnnArbor.com
Over the course of two days in the lower level of the
Tech Brewery
at 1327 Jones Drive — a creative work space known as
The Forge
— software developers, technologists, entrepreneurs and other interested citizens are expected to put their minds together to harness public data and code to create innovative solutions for challenges facing neighborhoods and communities.
That could be anything from a mobile app drivers can use to report potholes to platforms that address food and housing distribution for those in need.
"I really want people to come with a fresh and open mind," said co-organizer Hans Kokx. "There'll be plenty of caffeine, food and great beer, and it'll be a good time."
Vielmetti said there will be a civic applications contest sponsored by A2Geeks, a nonprofit educational foundation that celebrates geek culture throughout the Ann Arbor area.
The contest aims to bring together government, citizens and software developers to build innovative systems based on public data.
"It should be a pretty good crowd," Vielmetti said. "I'm expecting people will show up with ideas of their own for building civic applications."
And if they don't have ideas of their own, Vielmetti said, that's no problem — there are more ideas being kicked around than organizers know what to do with.
"There's a bunch of municipal data that the city has already published — everything from the tree inventory database of every tree in the city to assessment data about people's houses and solar energy information," Vielmetti said, adding those kinds of data sets will be put to good use.
Kokx is predicting good results.
"If I had to guess, I would say we would have some sort of really phenomenal web app," he said, adding one idea already being kicked around is a map where people can punch in their own personal utility data, including how much they pay per month for utilities.
"And you can put in stuff about what you've done to improve the energy efficiency of your home, and you can zoom in and see where other people are at," he said. "And if you're two or three times the carbon footprint of them, you can go and see what they've done to lower their bill."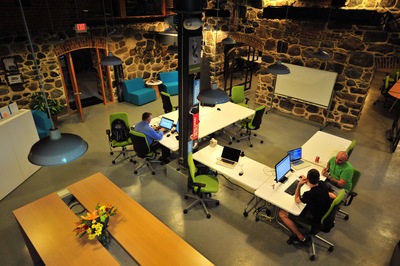 Ryan J. Stanton | AnnArbor.com
Another civic-oriented idea, Kokx said, is a mobile app that collects data about popular bicycle routes in Ann Arbor, and that could be matched against pothole location data to find out where the city should be focusing its resources to improve conditions for bicyclists.
A number of federal agencies, including NASA, the Census Bureau, and the Department of Labor, are participating in the national event by offering specific challenges for hackers to tackle.
A showcase of projects that emerge from Civic Hacking Day will be featured at an event at the White House at the end of July, in tandem with President Obama's focus on STEM education.
"I suspect people are going to want to spend most of their time focusing on local issues," Kokx said of the Ann Arbor hackathon. "It's hard to say what people will do, though. I'm just here to bring them together and give them the tools. Lead a horse to water, so to speak."
Local sponsors for the Ann Arbor event include Pillar, Barracuda Networks, Zinio, A2 Hosting and A2Geeks.
Vielmetti, a staunch advocate for transparency in government, said anyone who wants to get involved is invited to become part of the civic hacker community, regardless of skill level or experience.
Those interested in joining in and doing some hacking are encouraged to bring their laptops, ideas about civic government and some data.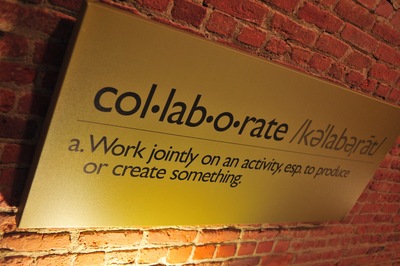 Ryan J. Stanton | AnnArbor.com
Vielmetti said he's gotten cooperation from city and county officials, including Matt Naud, Ann Arbor's environmental coordinator, and Andy Brush, Washtenaw County's information technology manager.
Using data provided by the city and the county, he said, they just might come up with some solutions that could help, for example, with local sustainability initiatives.
"I don't know exactly what to expect," he said. "I'm very hopeful people with bright ideas will meet up with people with good coding skills and we'll get something done that's more interesting than what either one of them could have done by themselves."
Kokx said organizers of the A2 Hack for Change have a list of challenges they're going to suggest people consider this weekend. A curated list of challenges from federal government agencies and other national partners is posted at www.hackforchange.org/challenges.
Eric Polerecky and Steve Koller, both software developers at Pillar, were working inside The Forge on Thursday afternoon. They're both curious what might unfold over the weekend.
"They came in and did a presentation, which gave us an overview of what civic hacking is," Polerecky said. "I don't think many of us have a lot of experience in it, so it's really going to be an introduction to the type of data that's out there. I don't think we have a specific project yet that we're focused on, so it'll be pretty much a learning experience for all of us."
Koller said he saw from an internship he had a couple years back in Grand Rapids how public data sets can be leveraged to solve social challenges.
"It was a branch of a philanthropic organization, but they actually had access to U.S. census data and they would map the city out according to different factors," he said. "And that would help inform other nonprofits of where they could best serve the city."
Ryan J. Stanton covers government and politics for AnnArbor.com. Reach him at ryanstanton@annarbor.com or 734-623-2529. You also can follow him on Twitter or subscribe to AnnArbor.com's email newsletters.