Posted on
Mon, Nov 26, 2012 : 5:44 p.m.
Haisley Elementary student taken to hospital, in stable condition after medical emergency
By Danielle Arndt
A special education student at Haisley Elementary School in Ann Arbor was transported to the emergency room at Mott Children's Hospital Monday afternoon after suffering a medical emergency in class.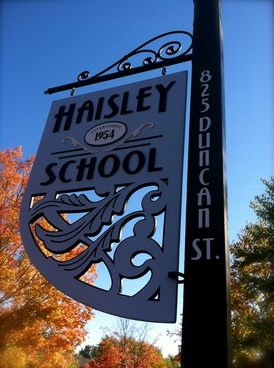 From AAPS
Huron Valley Ambulance
spokeswoman
Joyce Williams
said the girl was transported at 3:40 p.m. and was in stable condition late Monday afternoon.
Ann Arbor Public Schools spokeswoman Liz Margolis said she does not know the details of exactly what happened in this student's case, and the district cannot legally release information pertaining to children's medical conditions.
Margolis said protocols are in place to help teachers know how to handle medical emergencies and to help them calm any children who might be upset or scared after witnessing an emergency.
"The health of the (injured or ill) student is the No. 1 concern," she said. "But beyond that, the teachers are there to reassure the kids in the room and to let them know they are safe.
"We have crisis plans in place and, in a district our size, unfortunately this probably happens more frequently than most people know," Margolis said, in reference to having ambulances called to a school. "Teachers know their students best. If one student is having a really difficult time (after seeing their classmate transported by ambulance), the teacher will of course give them individual attention and take them down to the office and call the family."
If a child is exhibiting signs of being especially affected, the district has school social workers, psychologists and nurses that the child's family can consult, Margolis said. The district also has information on hand that it can distribute to families about clues to look for in a child's behavior after the child has witnessed something traumatic, she added.
"We have protocols in place for addressing seizures. In general, if a (seizing) child can be moved to someplace more private, they are," Margolis said.
Haisley Elementary in particular has a large population of special education students, Margolis said, explaining families from across the district send their special needs students to this elementary school.
"Often these are not students that could have been in an inclusion program because of their type of disability," she said.
Whenever an ambulance is called to a school, the district communicates what happened and why the ambulance was called to families affected.
The district decides on a case-by-case basis whether to inform the entire student body, just the classroom or some other combination of families about the ambulance being called.
"It just depends on what happened, when it happened," Margolis said. "If kids were out to recess and a lot of people saw the ambulance pull up or if it had its sirens on and everyone heard it, then we might send something out to the entire school through our school messenger system."
Danielle Arndt covers K-12 education for AnnArbor.com. Follow her on Twitter @DanielleArndt or email her at daniellearndt@annarbor.com.