Posted on
Wed, Oct 26, 2011 : 8:45 a.m.
Ecology Center: Halloween face paint tainted with heavy metals
By Juliana Keeping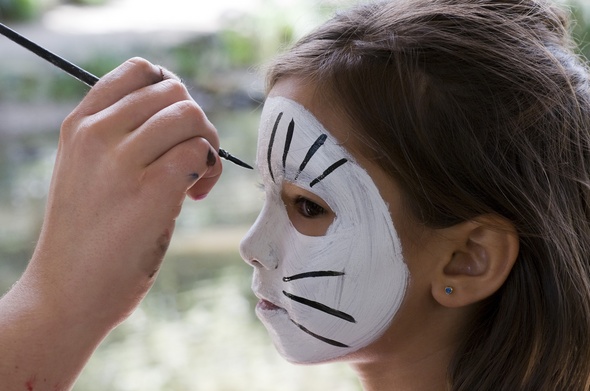 Midkhat Izmaylov | Dreamstime.com
Moms and dads gearing up to turn their kids into vampires and goblins might want to think twice: There's scary stuff in some Halloween face paint, according to
HealthyStuff.org
, a project of Ann Arbor-based
Ecology Center.
HealthyStuff tested 31 face paint products purchased in Michigan and found one or more toxic heavy metals in all of them, including mercury, lead, chromium and arsenic.
More than half of the products contained cadmium, a reproductive and neural toxicant that can cause brain damage, said Rebecca Meuninck, the environmental health campaign director for the Ecology Center.
The products were purchased from retailers like Target, Halloween City, Party City and Spirit Halloween.
"Children are especially vulnerable to the effects of heavy metals," Kenneth Fletcher, the associate executive director for government relations and outreach for the Michigan Nurses Association, said in a new release. "Heavy metals such as cadmium, mercury and chromium are associated with learning disabilities, brain damage, skin allergies and even cancer."
HealthyStuff has published the results of the study on its website, along with recipes for non-toxic Halloween makeup.
The study comes on the heels of a push from lawmakers and a children's environmental advocacy group to ban toxic toys in Michigan.
Rebekkah Warren, D-Ann Arbor, announced plans on Oct. 18 to introduce legislation that would protect kids from toxic chemicals in toys at a news conference with the Michigan Network for Children's Environmental Health.
The Safe Children's Products Act would require the state to create a list of chemicals of concern in children's products. It also would require toy importers and large manufactures to disclose the presence of chemicals of greatest concern in their children's products.
Jason Beddow, the president of Troy-based Palmer Paint Products Inc. did not have products on the list tested by HealthyStuff.
He said his company tests all of its products to make sure they meet all legal standards, sending face paints off for testing at both a Duke University lab and to a private company. Palmer Paint face painting products are sold at Jo-Ann Fabric, Meijer and Hobby Lobby, he said.
"If we found out our stuff was not within the legal parameters, we would immediately react," he said.
The testing standards depend on the product, he said. And companies tend to only do what they're required by law.
Ypsilanti parent Sandra Swan said the results of the study alarmed her. As a before-and-after school coordinator at an Ann Arbor Community Day Care, she said she might push to make face paints used for a haunted house, rather than buy them.
She's cautious when it comes to using face paints on her 4-year-old-son, Colton, at events like birthday parties.
"There are some that are safe, and some that aren't," she said.
Juliana Keeping covers general assignment and health and the environment for AnnArbor.com. Follow special project Viking's War on Facebook and Twitter
Reach her at
julianakeeping@annarbor.com
or 734-623-2528.
Follow Juliana Keeping on Twitter