Posted on
Mon, May 24, 2010 : 11:31 a.m.
Hangar vacancies at Ann Arbor Municipal Airport nearly double from a year ago
By Ryan J. Stanton
Hangar vacancies at the Ann Arbor Municipal Airport have nearly doubled in the last year, costing the city $17,449 in the first five months of this year, a new report shows.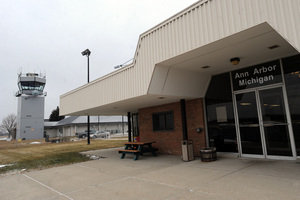 Melanie Maxwell | AnnArbor.com
More than 12 aircraft storage T-hangars have been empty most of this year.
The city lost $21,572 in revenue from vacancies in calendar year 2009, city records show.
Matt Kulhanek, manager of the city-run airport, said the leading cause of vacancies is the economy.
"When money is tight, businesses and individuals look to reduce expenses," he said. "The other impact was a couple of tenants who have multiple aircraft consolidated those aircraft from T-hangars to new box hangars."
Kulhanek said the airport's vacancy rate still is less than 10 percent, which he considers pretty good compared to other Michigan general aviation airports.
According to the city's website, the Ann Arbor Municipal Airport is home to more than 170 aircraft housed in 150 T-hangars, six new box hangars and a few other hangars owned and leased out by the airport. Tie-down spaces on the airport ramp also are available on a short-term (daily/overnight) or long-term (monthly/annual) basis.
The airport is located at the intersection of State and Ellsworth roads, just south of I-94 in Pittsfield Township.
Airport officials are in the process of planning an expansion to the airport's runway, which is intended to improve safety but also would allow more aircraft to use the airport.
Ryan J. Stanton covers government for AnnArbor.com. Reach him at ryanstanton@annarbor.com or 734-623-2529.