Posted on
Tue, Jan 31, 2012 : 10:55 a.m.
Have an opinion about walking and biking in Ann Arbor? City wants to hear from you
By Ryan J. Stanton
Have an opinion about walking and biking in Ann Arbor? Or ideas to share about what city officials can do to improve non-motorized transportation?
The city is beginning a review of its Non-Motorized Transportation Plan and inviting residents to help craft an update to the original plan adopted in early 2007.
The public is invited to participate through a series of public meetings.
The first sessions take place on Feb. 8 in the City Council chambers on the second floor of city hall at two times — from 3-4:30 p.m. and from 6-7:30 p.m. Members of the public can attend either session, and the agenda is the same for both.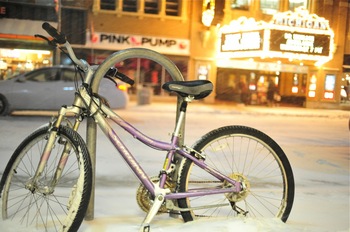 Ryan J. Stanton | AnnArbor.com
The Non-Motorized Transportation Plan guides the city in creating an environment and culture encouraging people to bicycle, walk, and use public transit to get around town.
After five years of implementation, the review will evaluate the city's progress toward realizing its goals and recommend updates based on progress and challenges.
City officials believe Ann Arbor has made significant progress since implementing the plan in 2007, including nearly doubling the number of bicycle lanes and making policy changes that create a safer environment for both pedestrians and bicyclists.
"The city has improved pedestrian crossings with upgraded crosswalk signals, pedestrian refuge islands and safety outreach," reads a statement from the city. "The city has also experienced challenges, such as infrastructure maintenance, sporadic enforcement, and limited resources to accomplish the plan's ambitious goals."
In all, there are expected to be four public meetings on the plan review through 2012. At the first meeting, city staff members are expected to give a broad overview.
There could be discussion of Ann Arbor's new pedestrian safety ordinance, which the city began enforcing in September. Reacting to controversy over the law, which requires motorists to stop for pedestrians at crosswalks, the City Council tweaked the wording recently and decided to install new flashing signals at particularly risky crossings on Plymouth Road.
Ryan J. Stanton covers government and politics for AnnArbor.com. Reach him at ryanstanton@annarbor.com or 734-623-2529. You also can follow him on Twitter or subscribe to AnnArbor.com's email newsletters.