Posted on
Thu, Jun 9, 2011 : 5:01 p.m.
Have you spotted the Google street-view car yet?
By Ben Freed
For people who need a bit of a nudge to get their flowers planted and porches cleaned up, a Google street-car has been spotted in and around Ann Arbor the past few days.
The cars - complete with 360-degree camera system affixed to their roofs - criss-cross the country taking snapshots that appear on the street-view portion of Google Maps.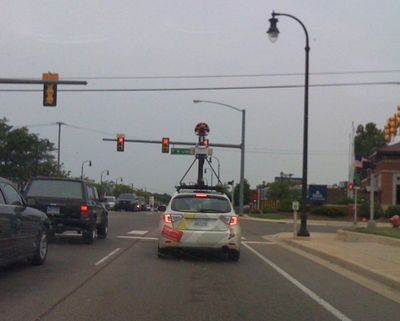 Nicole Hodges | AnnArbor.com
Hassan Hodges
, director of technology at AnnArbor.com, spotted the car on West Stadium by West Liberty, and said his wife has seen the vehicle multiple times around the west side of town. It's been spotted in Ypsilanti, too.
While the street-view cars tend to be viewed with bemusement or curiosity, they have faced their share of criticism both in the US and abroad. When introduced in England in early 2009, concerns over invasion of privacy were so great that, according to a story in the Times of London, in one village residents formed a human chain to stop the car from entering and photographing their homes.
Jake Parrillo, a Google spokesman, shared steps Google takes with the images collected by their street-view cars to avoid invasions of privacy.
"Once the photographs have been taken, they go through computer processing to make them ready for use on Google Maps," he said in a statement. "This includes cutting-edge face blurring technology, which helps make sure that passers-by in the photographs can't be identified, and we also blur legible license plates."
Parrillo also offered a tip if you don't want your house or face to be seen by people virtually wandering through your city.
"They can simply click on ""Report a problem"" on the bottom left-hand side of the Street View image, submit a request, and we'll blur the image," he said.
Here in the United States, Google was under scrutiny last year when it admitted that the cars mistakenly collected private data from non-password protected WiFi networks as they crisscrossed the globe.
Alan Eustace, Google's Senior VP of Engineering, wrote in a blog post in October that although the information was fragmented, in some instances "entire emails and URLs were captured, as well as passwords."
According to the Huffington Post, Google said that it deleted all of the accidentally collected data and managed to avoid any serious punishments from the court system.
Ben Freed is a summer intern at AnnArbor.com. You can reach him by email at benfreed@annarbor.com or by phone at (734)-623-4674. Follow him on Twitter @BFreedInA2.