Posted on
Mon, Aug 22, 2011 : 5:54 a.m.
Headaches all around as Washtenaw Community College copes with new federal aid requirements
By Juliana Keeping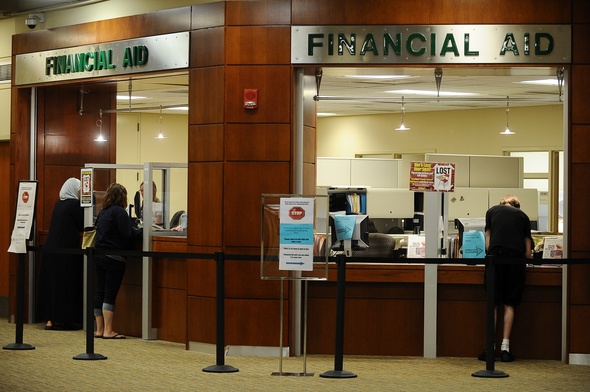 Melanie Maxwell I AnnArbor.com
Shelly McKinney spent part of an afternoon going back and forth between the financial aid office window and a nearby computer at the Washtenaw Community College Student Services building.
Her financial aid hadn't posted and she didn't know why; she needed to figure it out in order to register for a nursing class.
McKinney's issue was that she hadn't verified online that she'd started a new program.
That verification will allow WCC to track McKinney's pace of completion, part of new requirements rolling out this fall under the 2008 Higher Education Opportunity Act. Students didn't have to take this step before this fall.
While the changes to the federal law aim to boost dismal U.S. college completion rates, the only thing they gave McKinney last week was a headache.
At WCC, there are headaches all around as the changes bog down staff and slow down services for students.
When McKinney identified and fixed the hiccup after about an hour of wrangling with the system, she jumped up and down when she confirmed her aid had posted online. She could take her course.
Those who haven't verified programs by next week will be automatically dropped from classes, said Linda Blakey, the associate vice president for student services.
Situations like McKinneys are a common sight at student services just a week before the fall semester begins at WCC on Aug. 26.
Vexed students tell Blakey they are caught totally off guard when they discover they're not eligible for aid under various changes to the federal law. The school's staff is struggling to keep up with the fallout, Blakey said. WCC began notifying students in the spring of a variety of changes that were coming; it appears many missed the memos.
Among the changes:
Students have to complete 67 percent of attempted credits overall with a cumulative GPA over 2.0 the semester prior in order to be eligible for financial aid. That includes transfer credits.
Before, WCC considered students' course completion rates on a semester-by-semester basis rather than over their entire academic career.
"Now we have to look at everything you've attempted," when it comes to aid, Blakey said.
Students will be monitored more closely to make sure they're completing their programs at the new pace of completion set by the federal government. If they take too much time or don't take the right classes, their aid will be cut off, Blakey said.
"It forces students to focus on completing their program more quickly," Blakey said.
That's why as of last Thursday, more than 160 students had filed appeals for student aid — many dozens more than what's typical for this time of year, Blakey said.
To be granted an exception on financial aid, a student can begin an appeal process. In some cases, that entails creating a progress plan with a counselor. When the school grants a financial aid exception, financial aid office staffers have to monitor each progress plan to make sure the student is making progress toward completion. That means by approving an exception, the department creates more work for itself.
A lot more work.
The school hasn't added financial aid staff, Blakey said.
Financial aid and counseling report to Blakey. They are inundated with work on appeals, she said.
"We've had to schedule more people than usual in the advising area," she said.
The deluge of appeals is slowing things down for students trying to get their courses and aid in order in the days before classes begin.
Nicole McElhaney is one of them. The 21-year-old home health aid has made six 45-minute trips to WCC from Wayne in three weeks to resolve a financial aid issue.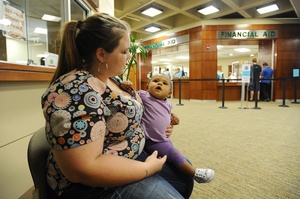 Melanie Maxwell I AnnArbor.com
If she can't get financial aid for her full course schedule in order, she can't start criminal justice courses. The program is tied to a new future for the mother of two.
She's frustrated and stressed out, she said.
"I'm nervous," she said. "I don't know if I'll be able to start school."
Juliana Keeping covers general assignment and health and the environment for AnnArbor.com. Reach her at julianakeeping@annarbor.com or 734-623-2528. Follow Juliana Keeping on Twitter