Posted on
Wed, Jul 13, 2011 : 5:55 a.m.
Longtime Ann Arbor fitness advocate and Gymkhana founder Donald T. Botsford dies at 82
By Christine Chun
Donald T. Botsford — known as Grandpa Don by many youngsters around Ann Arbor and remembered for opening the city's first private fitness center, Gymkhana — died June 27 at age 82, his family said.
For decades, Botsford participated in and promoted health and fitness activities in Ann Arbor. He first developed an interest in health and fitness in college and opened Gymkhana on Maple Road in 1956. He ran the business for 30 years.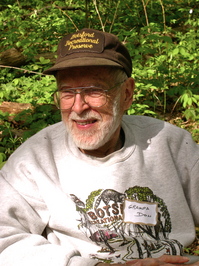 Photo courtesy of Will Hathaway
Botsford was born to
Tom
and
Irene Botsford
on Dec.16, 1928, in Ann Arbor. He graduated from
Ann Arbor High School
in 1946 and continued his education at
Central Michigan University
. After college, Botsford worked for his parents' tile company, taught at
Arborland Spa
and designed outdoor facilities for the Girl Scouts.
At Gymkhana and his own nature preserve and outdoor gym, Botsford Recreational Preserve, Botsford coached athletes in track, gymnastics, trampolining and weight lifting. Some of his students went on to compete in local, state and national championships.
In a 2008 Ann Arbor News profile, Botsford talked about buying the 20 wooded acres in Scio Township to save them from development and create a place for students and athletes to visit and spend time in nature. The property also featured treehouses that Botsford built himself.
He told the News: "Like the little cartoon character said, 'If someone could build a treehouse, why would they not want to?' It's so obvious to the kid that the treehouse is the ultimate."
Botsford enjoyed taking students on nature outings to Kensington Park as part of the Ann Arbor Public School Outdoor Education Program. He cherished not only his students, but also the letters and pictures he received from them, his family said.
Botsford was an active member of the Ann Arbor softball community until his late 70s, Larry Dishman, the coordinator of team sports at the Ann Arbor Community Education and Recreation said. He played in the ASCOT league, a softball league for senior players, and provided support to other players in the community.
"Don was a big advocate for healthy living and physical well-being. He was a very articulate, dedicated and unique individual. He was fantastic," Dishman said.
In his free time, Botsford enjoyed going on nature walks and spending time in the woods, where he went every morning. There, he took photographs of deer, turkeys and other wildlife he encountered for his photo album.
Botsford had one daughter, Ann Long, and two sons, Jon and Robert Botsford, along with 11 grandchildren and two great-grandchildren. He was preceded in death by his parents, son David Botsford and grandson Christopher Long.
Christine Chun is an intern for AnnArbor.com. Reach her by email at chunchr@umich.edu